28 Best & Fun Things To Do In Galena, IL
Are you planning a visit to Galena, Illinois and looking for some exciting activities to make your trip memorable? Look no further! You're at the right place, as we'll be exploring the 28 best and fun things to do in Illinois, IL.
Nestled in the picturesque hills of Northwestern Illinois, Galena offers a wide range of experiences that will captivate your senses and leave you wanting more. From historic tours that transport you back in time to outdoor adventures that awaken your inner thrill-seeker, this charming town has endless possibilities for every type of traveler.
Whether you're a history buff, a nature lover, or just seeking an escape, Galena has something for everyone. In this article, we'll take you through 28 must-visit places and experiences in Galena, Illinois, ensuring you make the most of your visit to this captivating destination. While planning your trip, you also need to understand the best time to visit Galena to make the most of your vacation.
---
28 Best & Fun Things To Do In Galena, IL in 2023
---
1. Galena's Historic Main Street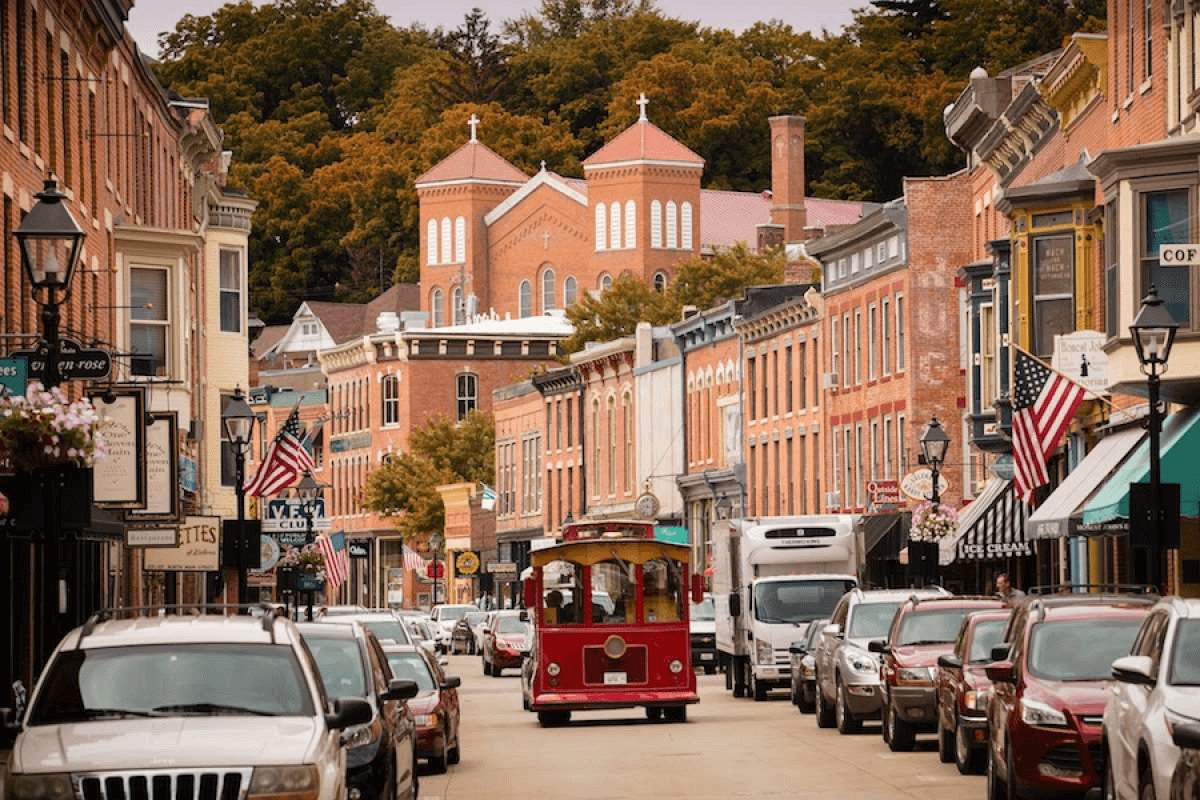 Begin your Galena's journey by exploring the historic Main Street, a picturesque strip filled with boutique shops, restaurants, and charming 19th-century architecture.
Often likened to a scene from a Norman Rockwell painting, Main Street in downtown Galena is the hub of local businesses, including jewelers, art galleries, boutiques, and more. With over 125 shops and restaurants, there's something for everyone.
It's a great place to spend the day, shop, and find the perfect souvenir gift while enjoying the beauty of this historic town.
Address: Main Street, Galena, IL
2. Ulysses S. Grant Home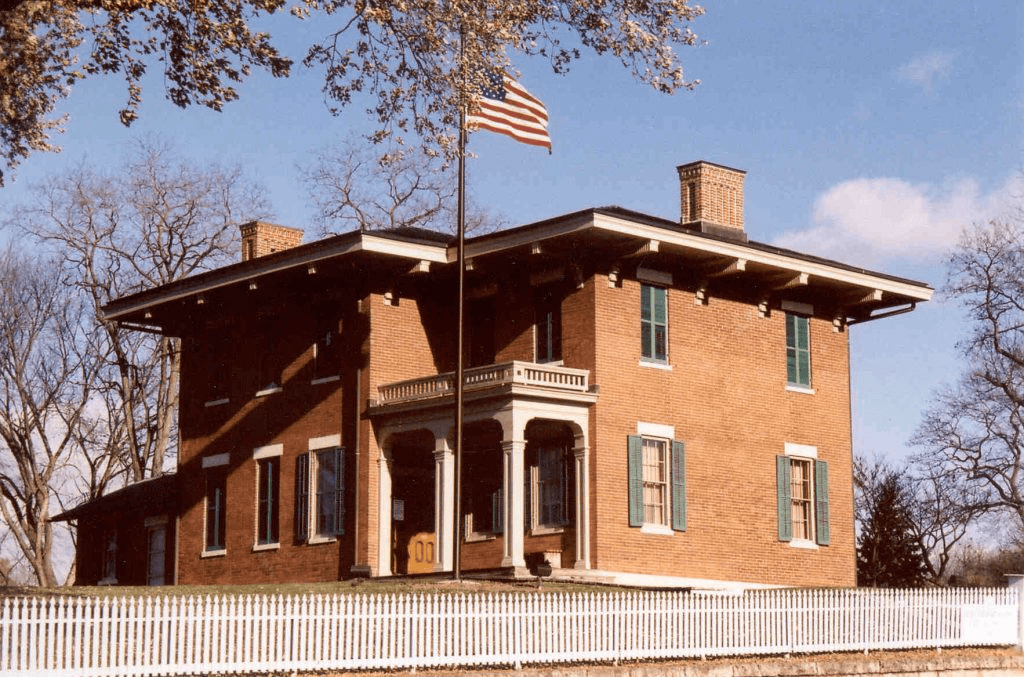 One of the fun things to do in Galena, IL, is to explore the home of the Civil War hero who later became the United States 18th president, Ulysses S. Grant. The home, which was constructed between 1859 – 1860, was given to Grant by residents of Galena in 1865 in appreciation of his war efforts.
The home, which was opened to the public in 1904, today stands as an authentic representation of Civil War-era furnishing and decor.
The home features antique furnishings and artifacts, vintage clothing and accessories, and a beautiful view from the outside. Take a guided tour around this historic building and appreciate the beauty of history.
Address: 500 Bouthillier St, Galena, IL 61036
3. Galena River Trail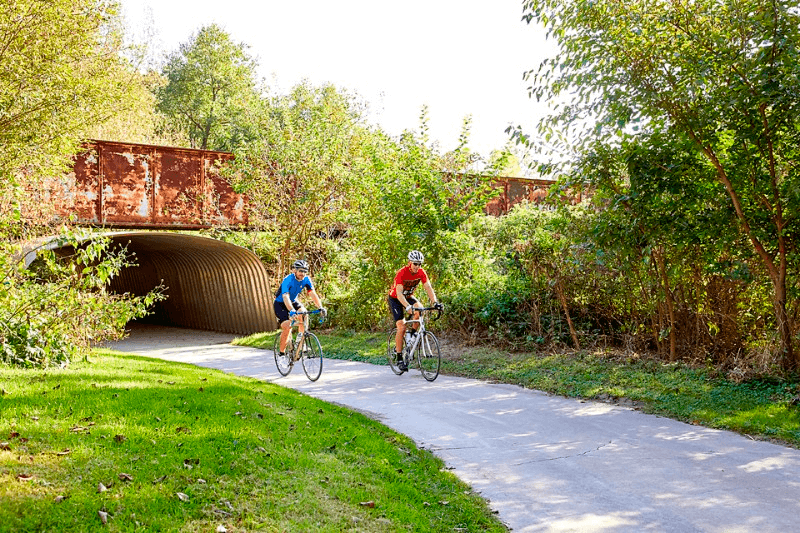 The Galena River Trail is a scenic 8.8-mile trail along the Galena River. The trail is built upon an old railroad spur of the Burlington Railroad main line.
Stretching for miles, this scenic trail is perfect for biking, jogging, hiking, tranquil walking or cross-country skiing. Along the way, you'll be flanked by dense woodlands, open meadows, and the shimmering Galena River. Keep an eye out for local wildlife; deer, foxes, and a variety of bird species often make appearances.
Exploring this trail is one of the free things to do in Galena, Illinois.
Address: 91 Bouthillier St, Galena, IL 61036
4. Galena History Museum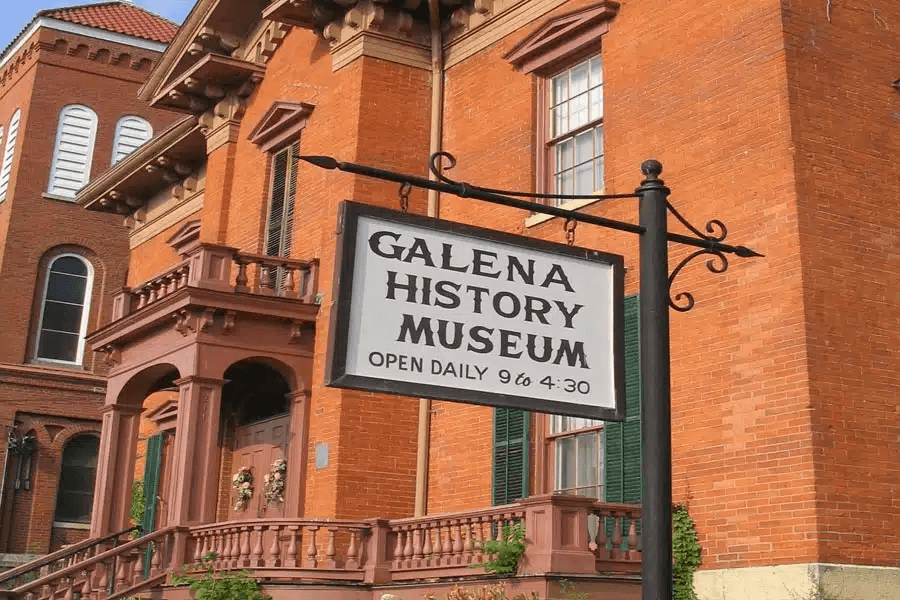 One of the best things to do in Galena is to explore history and meet the spirit of Ulysses at the Galena History Museum. The museum is housed in an 1858 Italianate mansion built as a private residence by Galena merchant Daniel Barrows.
The Galena History Museum also features over 6,000 square feet of exhibit space and presentations on lead mining in the northwest region. Take a tour and explore the history of the town.
Address: 211 S Bench St, Galena, IL 61036
5. Galena Trolley Tours
One of the unique things to do in Galena is to take a guided tour around the historic city and learn about its rich history and major landmarks.
These narrated tours offer insights into Galena's architecture, history, and Native American heritage. Some of the notable sites you'll pass include the historic Grant Home, Dowling House, and Belvedere Mansion.
Along the way, the trolley will pause for photo opportunities. Choose from different themed rides, from ghost tours to vineyard trips.
Address: 314 S Main St, Galena, IL 61036
6. Eagle Ridge Resort & Spa
Nestled in the beautiful 6,800-acre Galena Territory, this luxurious resort offers a variety of outdoor and indoor recreational activities.
The Eagle Ridge Resort & Spa offers 63 holes spread across four champion golf courses, a luxury spa, 23 miles of hiking trails, and so much more. Their Tranquility Spa is equally tempting, offering treatments like the Hot River Stone Massage and Detoxifying Mud Wrap.
Due to its location on the shores of Galena Lake, you can explore nature by boat or hot air balloon. Other activities available at the resort include horseback riding, hiking, winter sports and swimming.
Address: 444 Eagle Ridge Dr, Galena, IL 61036
7. P.T. Murphy Magic Theatre

One of the unusual things to do in Galena, IL, this evening is to experience intimate magic shows that will leave you spellbound at the P.T. Murphy Magic Theatre.
Built in the 1840s, the magic theatre is an ideal location to experience a magical evening. Beyond the intimate seating, this 24-seat theatre's decor echoes old-world charm with plush red velvet seats and antique fixtures.
The 65-minute show merges storytelling with illusions, and due to its intimate setting, audience participation is often a delightful component. To catch a show, you would need to get your ticket in advance.
Address: 204 Hill St, Galena, IL 61036
8. Chestnut Mountain Resort
Chestnut Mountain Resort is one of the top destination attractions in Galena, Illinois. Opened in 1959, this popular mountain and ski resort spans 220 acres and features a variety of outdoor activities.
Although the resort is incredibly popular during the winter, it also has outdoor activities that are perfect for all four seasons.
Conveniently located amongst the hills overlooking the Mississippi, Chestnut Mountain Resort boasts 19 ski snowboard trails, a 475-foot vertical drop, 7-acre terrain park, The Farside, featuring over 25 rails and structures.
Its ski slopes cater to various skill levels, from gentle beginner runs to challenging black diamond slopes. Summer unveils a plethora of activities: the Alpine Slide offers a thrilling downhill ride, while the river cruises provide a more relaxed perspective of the Mississippi's beauty.
Address: 8700 W Chestnut Mountain Rd, Galena, IL 61036
---
Are you exploring other attractions near Galena? Why not check out some fun things to do in Aurora, Illinois?
---
9. Old Market House
Built in 1845, the Old Market House is Galena's oldest brick building, its Greek Revival architecture showcases tall windows and intricately carved wooden detailing.
The building once served as a town hall and enclosed farmer's market, forming a community hub during Galena's "Golden Era." The Old Market House served as a meeting place for the community to discuss important city issues, and it was also home to a variety of vendors selling their wares.
As part of the unique things to do in Galena today, take a tour inside and peruse the rotating exhibits, which often feature works from local artists, along with artifacts and relics from Galena's storied past.
Address: 123 N Commerce St, Galena, IL 61036
10. Linmar Gardens
One of the most romantic things to do in Galena for couples is to take a leisurely stroll around the Linmar Gardens. Located just outside of downtown Galena, this private-owned 3.5-acre green space is a hidden gem for a lovely stroll with a beautiful backdrop.
Carved into a hillside, the gardens offer terraced displays, with seasonal flowers creating a kaleidoscope of colors and multiple water features.
You and your partner can take a guided tour around the garden and learn the design principles, often infused with tales of Galena's influential citizens who played a role in the garden's conception. Keep your eyes open for hidden treasures behind each turn, stone statues, and garden artwork.
Address: 504 S Prospect St, Galena, IL 61036
11. Thunder Bay Falls
Thunder Bay Falls is one of the best places to visit in Galena, Illinois. Located just 10 minutes from downtown Galena, Thunder Bay Falls is arguably the most beautiful waterfall in the Midwest.
The falls have easy access, and the trail is short and sweet, as it won't take you more than 10 minutes to reach the spectacular falls. There are several activities you can engage in at Thunder Bay Falls, including hiking and picnicking.
As a visitor, this falls is the perfect place to escape the summer heat or take a break from shopping downtown. Don't forget to come along with your camera because you will want to capture this beautiful memory.
Address: 233 Thunder Bay Rd, Galena, IL 61036
12. Grant Park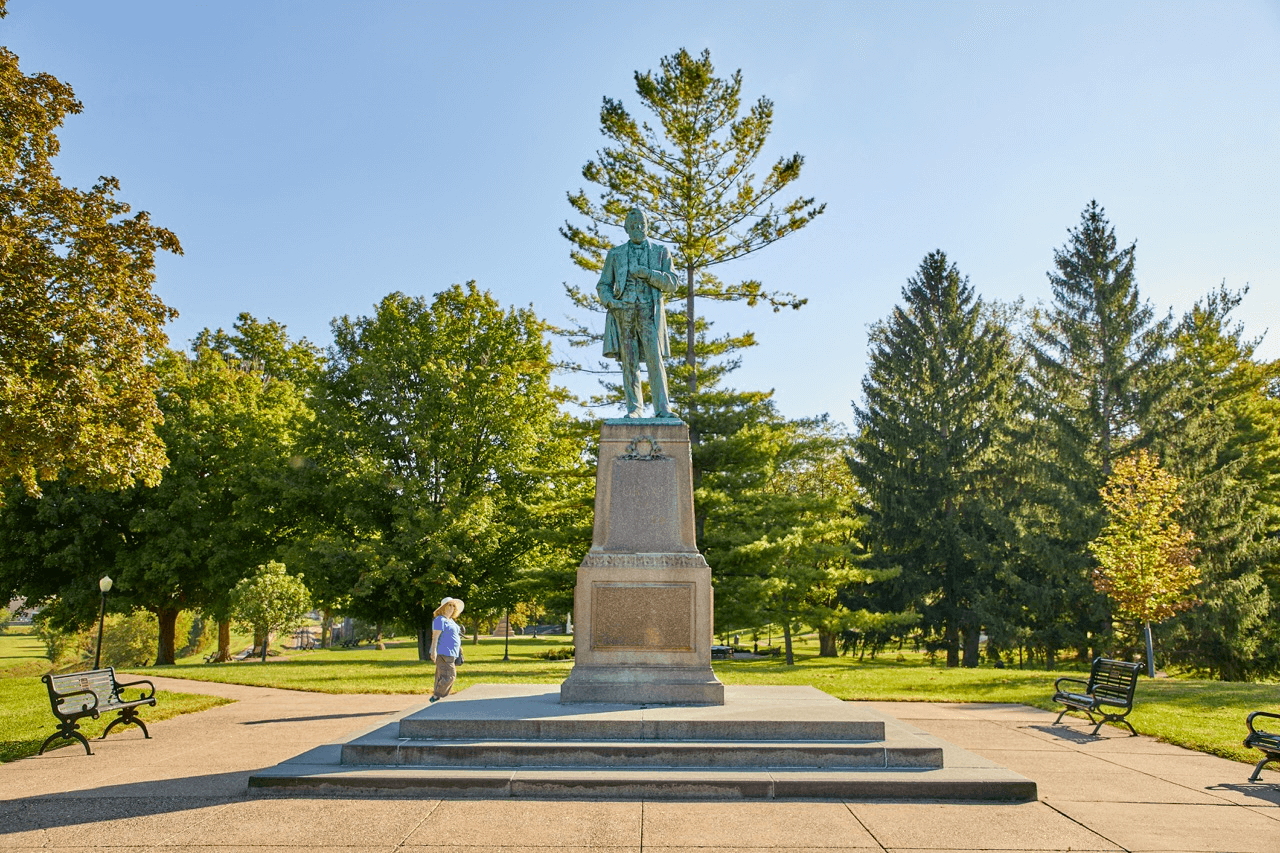 Located just beside the Galena River, this picturesque oasis offers more than just green space. This park is a beehive of outdoor activities.
Its sprawling lawns are dotted with monuments, including a statue of its namesake, Ulysses S. Grant. Grant Park features a pavilion with tables, a gazebo, a fountain, a play lot, a basketball court, historic cannons and monuments, and a walk bridge across the Galena River to Galena's downtown historic shopping district.
Wandering along the serene pathways, one can discover the beautifully manicured flower beds, the historic cannons facing the river, and the tranquil gazebo, a popular spot for picnics and live performances during the summer months.
Address: 625 Park Ave, Galena, IL 61036
13. Elihu B. Washburne House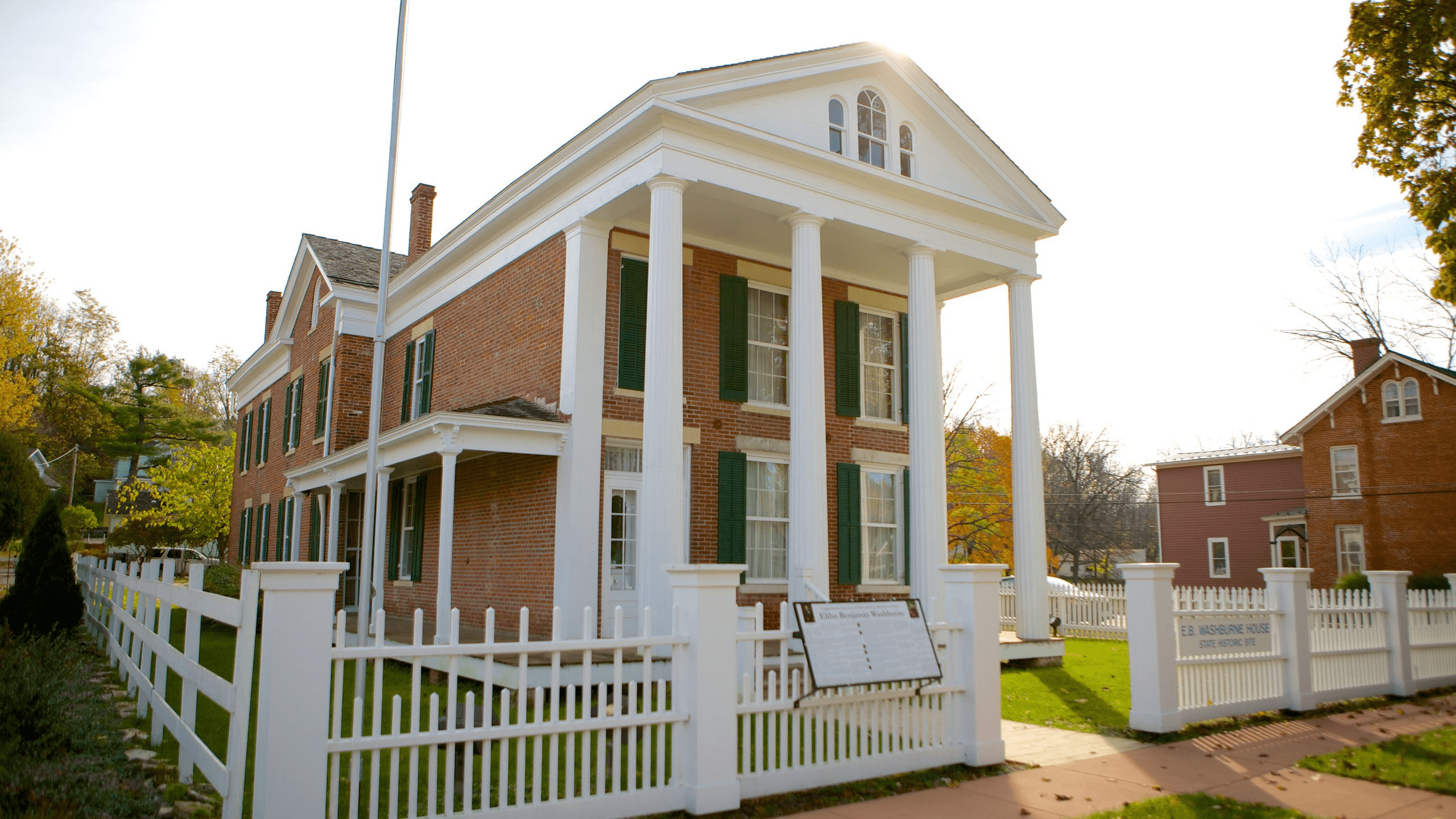 Built in 1843, the Elihu Benjamin Washburne House is a Greek Revival-style house that stands as a testament to Washburne's prominence in Galena.
Owned by a prominent local attorney, congressman, and advisor to Presidents Lincoln and Grant, Elihu B. Washburne House State Historic Site is of political and historical repute.
Each room offers insights into the Washburne family's life. With restored period furniture and personal artifacts, take a guided tour and learn about Washburne's close ties to Presidents Lincoln and Grant.
Address: 908 3rd St, Galena, IL 61036
14. Horseshoe Mound Preserve
Located on the outskirts of Galena, the Horseshoe Mound Preserve is one of the must-visit attraction sites in Galena, Illinois.
With nearly 200-acre, this preserve boasts an incredible panoramic view of the three states: Illinois, Iowa, and Wisconsin. It features a central gathering area, viewing scopes and scenic outlooks.
The namesake 'horseshoe' shape can be seen from the summit, and the landscape is riddled with Native American burial mounds, giving a sense of the deep-rooted history of the region.
Explore this preserve by strolling along the half-mile loop that threads through the grounds.
15. Galena Recreation Park
One of the family-friendly things to do in Galena is to explore the Galena Recreation Park. Located northeast of downtown, this 8.5-acre park is a must-see place for families visiting the city.
The park features a family water park, a skateboard and BMX bike park, softball fields, playgrounds, basketball and sand volleyball courts, shuffleboard, 7 pavilions, horseshoe pits, croquet field, and restrooms.
Visit this park with your kids and enjoy an afternoon of games, water activities, and family fun. This park is also pet-friendly, just in case you want to go with your dog.
Address: 1721 Field St, Galena, IL 61036
16. Belvedere Mansion and Gardens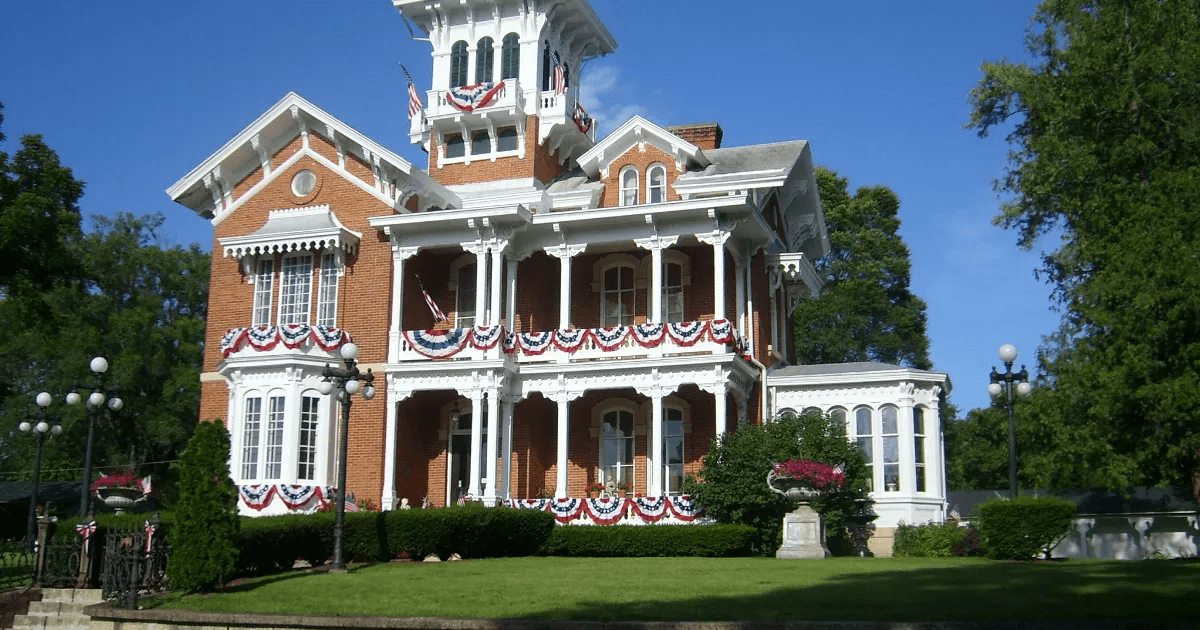 Looking for exciting things to do in Galena today? Then explore the Belvedere Mansion and Gardens. Built in 1857, this 22-room Italianate mansion is considered one of the finest mansions in Galena.
Open to the public for tours, the mansion's opulent interiors are filled with period antiques, crystal chandeliers, and hand-carved moldings.
The gardens, meticulously landscaped, bloom in seasonal glory, offering a perfect backdrop for themed garden parties and high teas. You can stroll through the garden at your leisure.
Address: 1008 Park Ave, Galena, IL 61036
17. Dowling House
Built in the 1820s as a trading post and residence, the Dowling House is Galena's oldest home. The house is one of the coolest places to visit when in Galena.
Constructed of limestone, the building stands as a testament to early settler life. The Dowling House was equipped with primitive living quarters and hosted many fur traders in years past.
As part of the things to do in Galena, take guided tours of the house and learn more about its construction and design and the important role it played in Galena during the development of the city.
Address: 220 Diagonal St, Galena, IL 61036
18. West Street Sculpture Park
One of the fun things to do in Galena this weekend is discover a unique array of large steel sculptures crafted by artist John Martinson.
The park features more than a dozen large, welded steel sculptures scattered throughout two acres in a beautiful, natural setting. The sculptures include two 40-foot towers, contemplative artworks, a giant tinker toy, unique signs, and humorous assemblages.
The park also has an onsite studio where John Martinson is often working. On your visit, spend time exploring the interplay of art and nature.
Address: 620 S W St, Galena, IL 61036
19. Crystal Lake Cave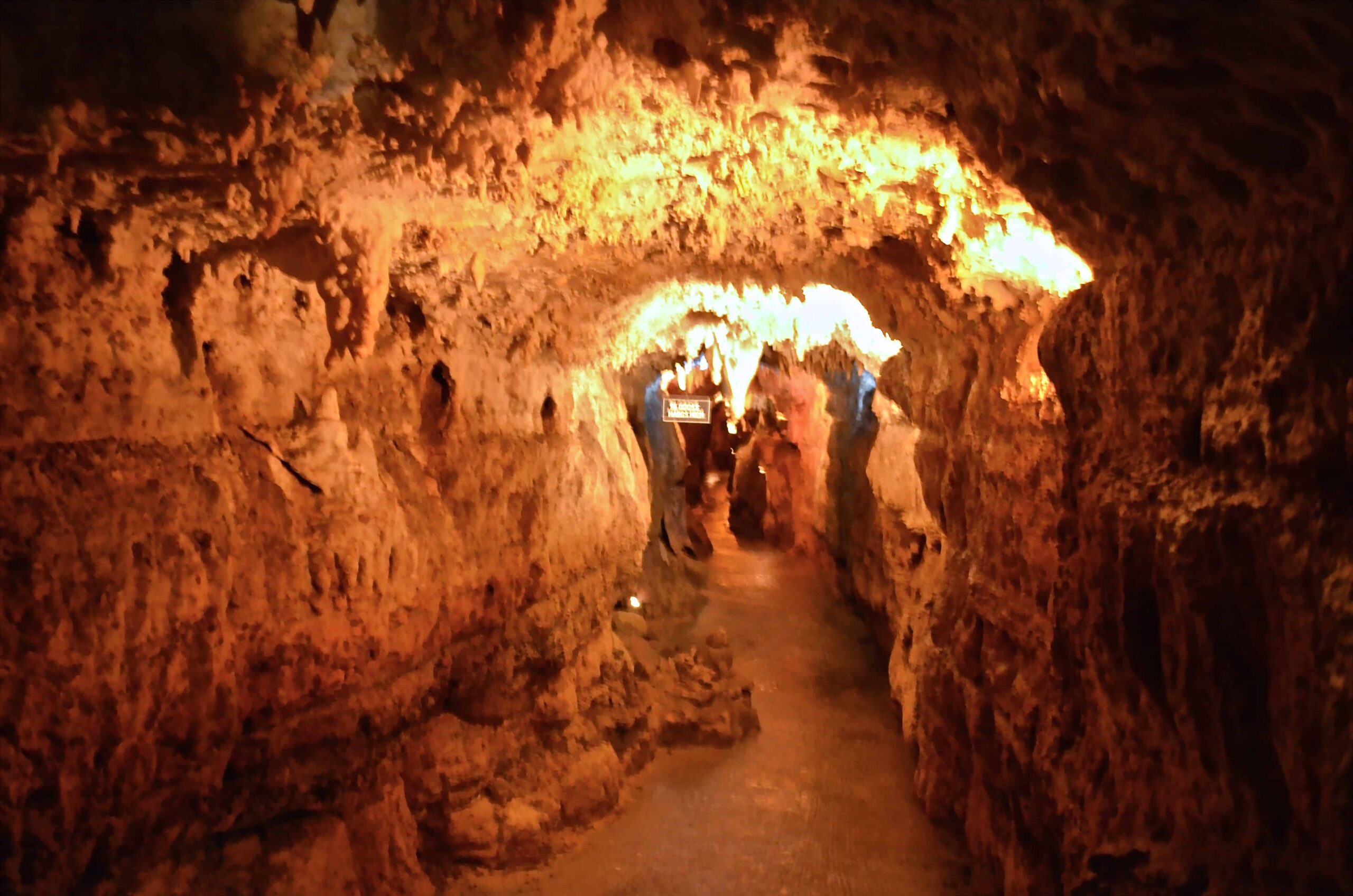 Located just 20 minutes away from Galena, exploring the Crystal Lake Cave is one of the unique things to do near Galena, Illinois. Discovered in 1868 by miner James Rice while searching for ore-bearing stones in Iowa, this underground cave is one of the must-visit attractions in Iowa.
The underground cavern is filled with striking cave formations consisting of crystals, including argonite, travertine, satin, stalagmite, stalactite, and calcareous spar. The cave also has a small pool of crystal-clear water.
Take a day trip to this amazing attraction site and appreciate the beauty of nature.
Address: 6684 Crystal Lake Cave Rd, Dubuque, IA 52003
Exploring other attraction destinations near Galena? Why not check out some of the fun things to do in Dubuque, Iowa?
20. Casper Bluff Land and Water Reserve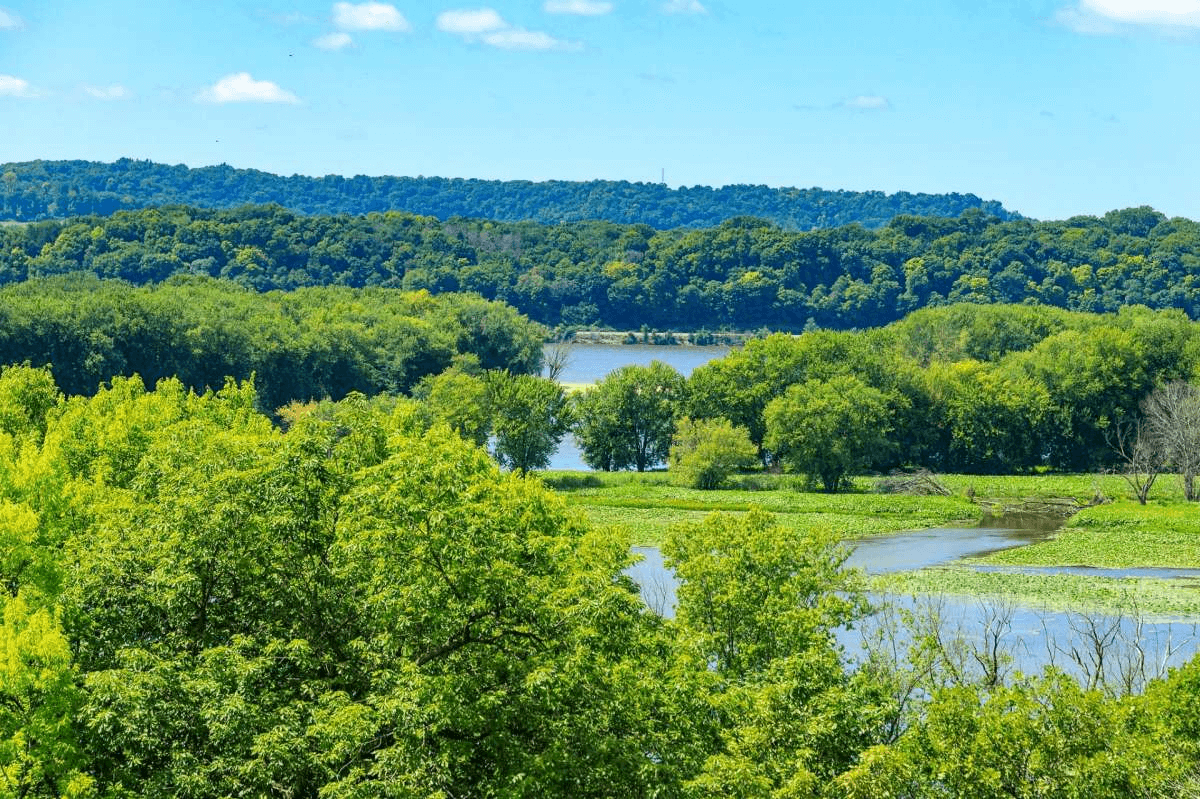 Situated on the scenic Mississippi River Bluffs, the Casper Bluff Land and Water Reserve is one of the most picturesque places to visit in Galena, Illinois.
The 85-acre site is famous for its commanding view of the Mississippi River and its backwater sloughs, as well as an archaeologically significant site.
The reserve contains the Aiken Mound Group, a group of archaeological mounds that were founded in the early 1900s; the reserve is the setting for some truly magnificent sights. They are a total of 51 documented mounds at this location: 38 long, wall-like structures, 12 conical mounds, and one Thunderbird effigy.
Address: 870 S Pilot Knob Rd, Galena, IL 61036
21. Galena Farmers Market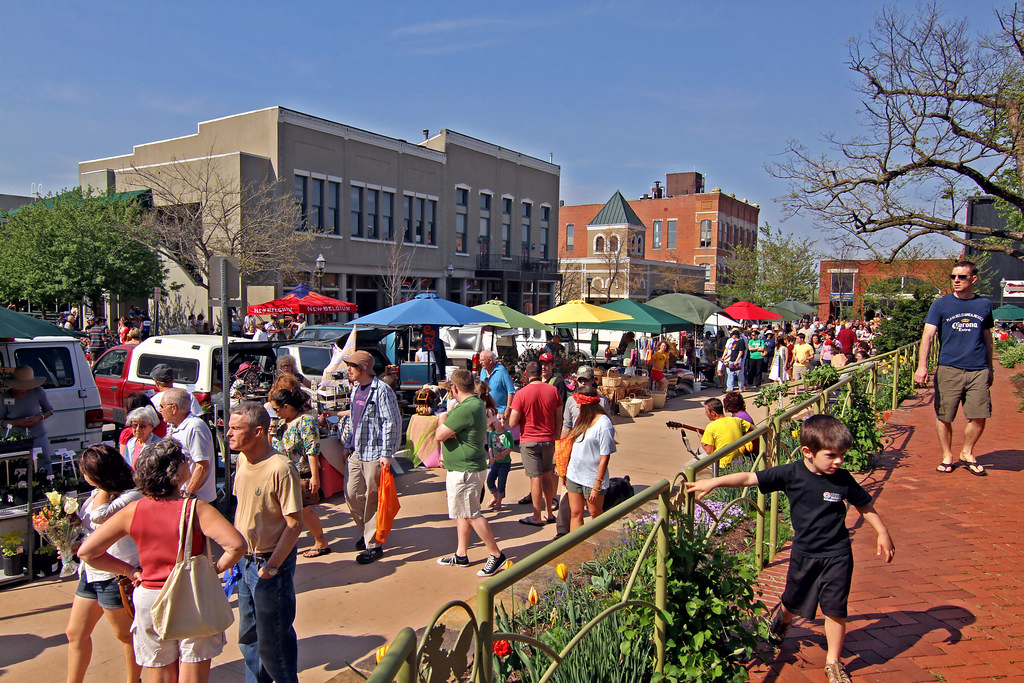 One of the best things to do in Galena this weekend is to explore the Galena Farmers Market. Located at Galena City Hall Parking Lot in Historic Galena, the farmers market opens every Saturday from May to October.
At this market, you will see local vendors assembling a plethora of fresh produce, handcrafted goods, and delicious baked items. Engage with local farmers, sample artisanal cheeses, and indulge in homemade pies, all while enjoying the community spirit of Galena.
Address: 101 Green St., Galena, IL 61036
22. Buehler Preserve
One of the free outdoor activities to do in Galena, IL, is to hike or bike into Buehler Preserve from downtown Galena and experience the prairie life.
This 25-acre property features a hilly woodland, a flood plain, a prairie restoration, and public open space. This serene nature preserve offers a peaceful retreat. With well-marked trails that meander alongside the Galena River, it's an ideal spot for bird-watching, picnicking, biking, hiking, dog-walking and reflection.
Address: 102 Jefferson St, Galena, IL 61036
23. Turner Hall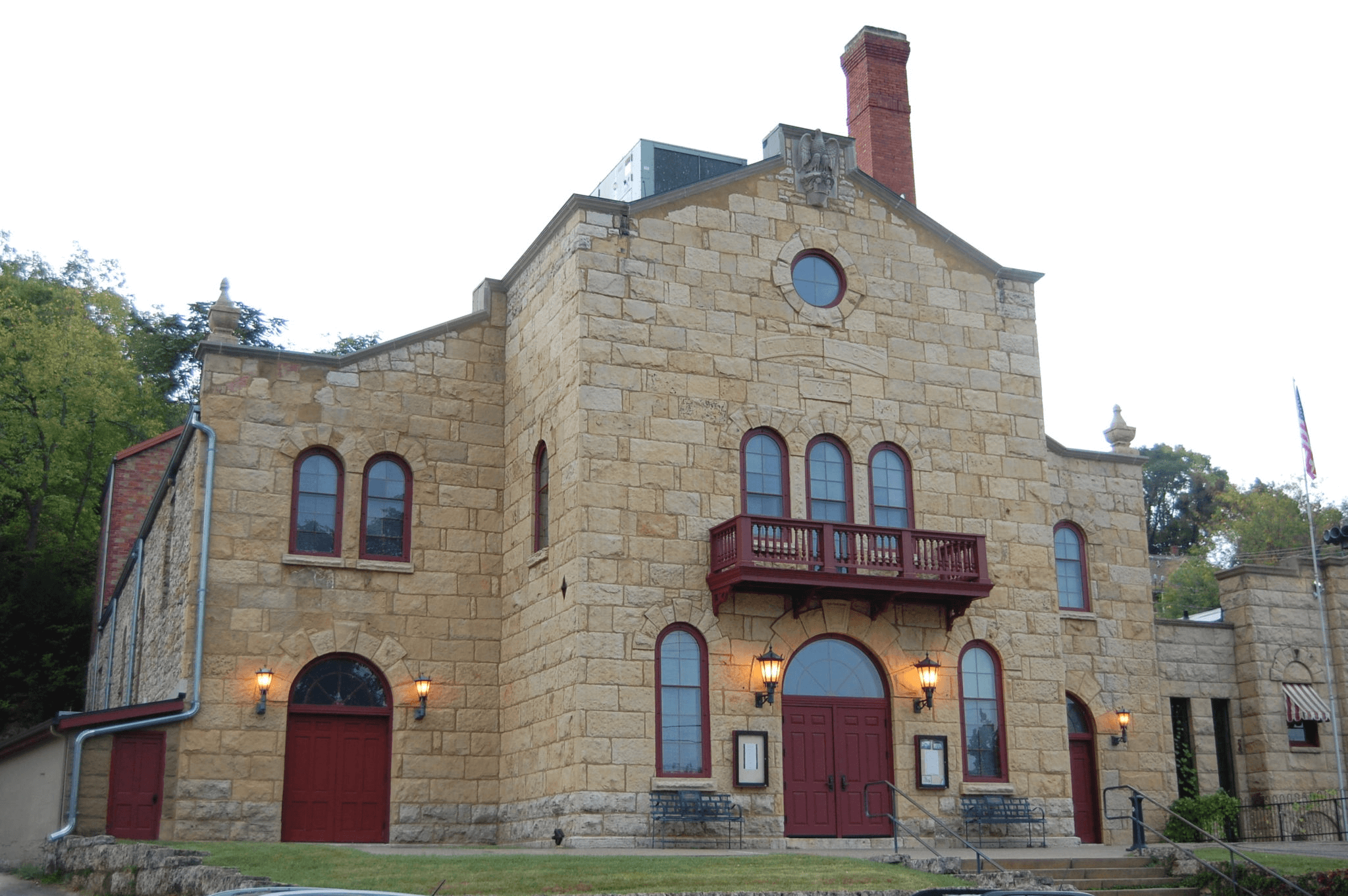 One of the most iconic landmark structures to see in Galena is Turner Hall. Built in 1874, this landmark hall has hosted countless community events.
The hall's main area has a large room with a stage at one end and a balcony with 335 built-in seats on the other end. The main floor of the hall does not have built-in seating.