22 Best & Fun Things To Do in Murphy, NC
Are you planning a trip to Murphy, North Carolina, and looking for fun activities to make your trip memorable? Look no further! You're at the right place, as we'll be exploring the 22 best and fun things to do in Murphy, NC, making your trip unforgettable.
Nestled in the enchanting Appalachian Mountains, Murphy, North Carolina, is a destination of beauty that offers a unique blend of small-town charm, rich history and natural beauty. The town, established in the 1830s, has many fun attractions.
This famous destination offers several must-visit places and fun experiences, ensuring you make the most of your trip. While planning your trip, you must also understand the best time to visit Murphy, North Carolina, to make the most of your trip.
---
22 Best & Fun Things To Do in Murphy, NC (2023)
---
1. Murphy River Walk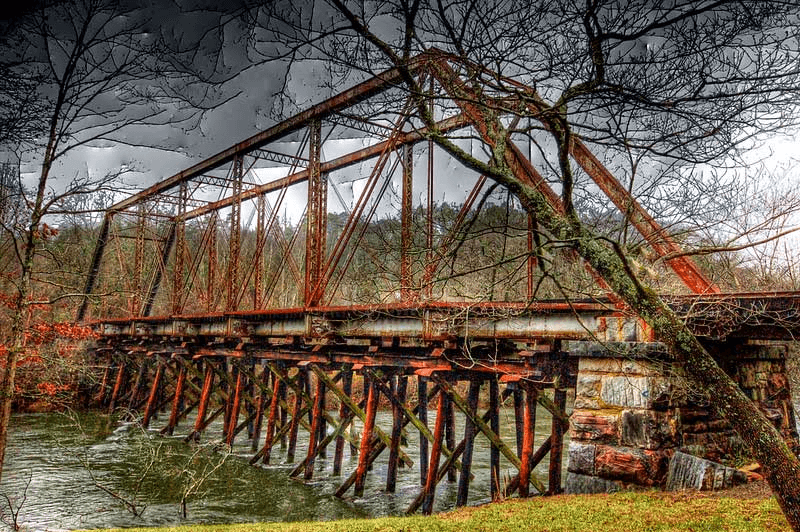 Begin your Murphy journey by strolling along the Murphy River Walk. The River Walk, a serene haven winding alongside the scenic Valley River, stretches over three miles and offers a mesmerizing blend of tranquility and natural beauty.
The well-maintained trails feature wooden boardwalks, stone pathways, and strategically placed benches, which allow visitors to sit back and embrace the calm. Dotted with vibrant flora, the pathway is a habitat for butterflies, birds, and otters near the water's edge.
As part of the free things to do in Murphy, NC, take a leisure walk along the trail to capture the sunrise and sunset golden hours, casting a magical light over the water.
Address: Murphy River Walk, Murphy, NC 28906
2. Historic Downtown Murphy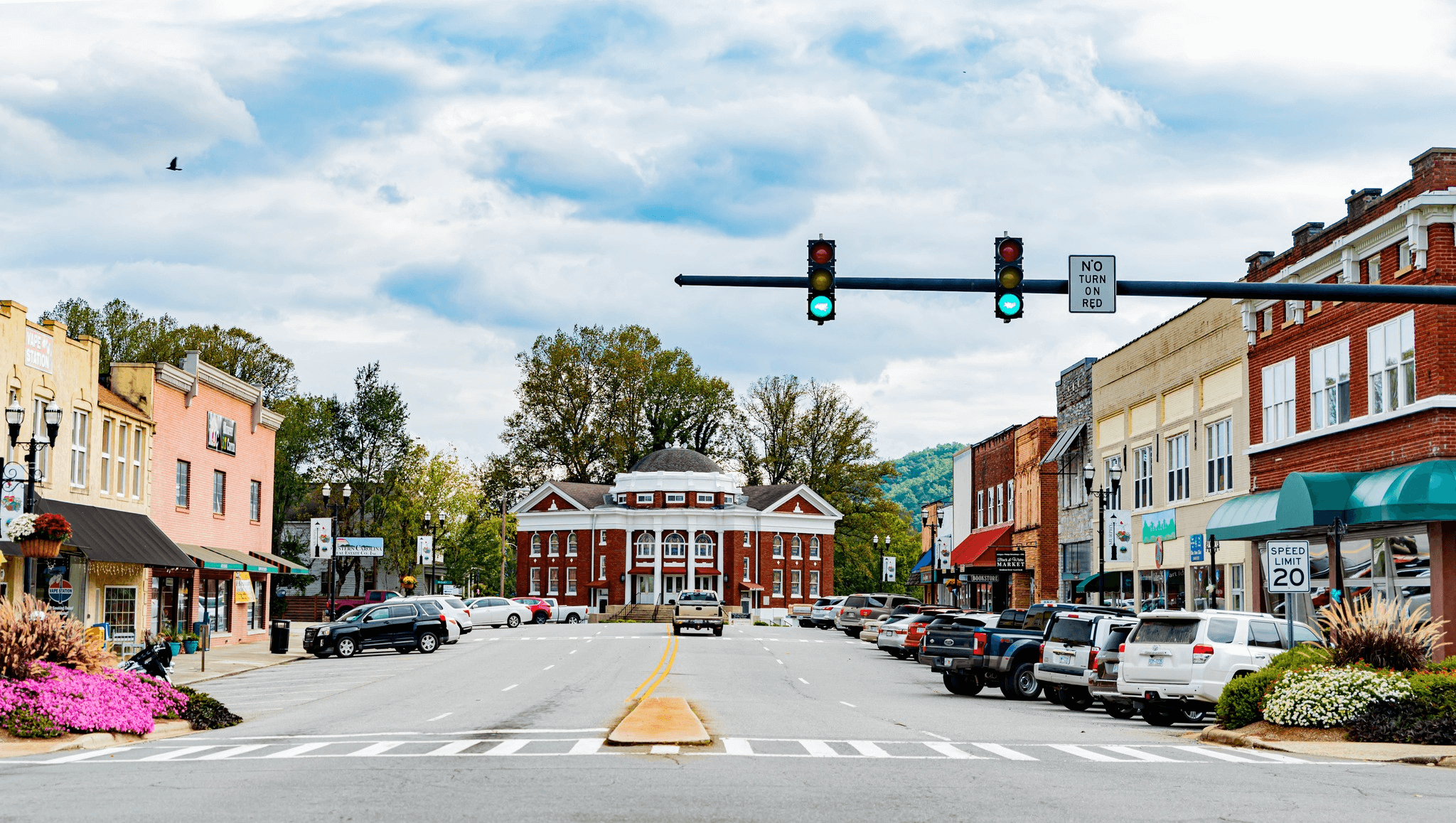 The heart of Murphy is its historic downtown, which is beautiful with flower and tree-lined streets. With its cobblestone streets, antique stores, restaurants, and other interesting establishments, it's like stepping back in time.
The preserved buildings, dating back to the early 1900s, tell tales of a bygone era.
As part of the many free things to do in Murphy, stroll through the town's quaint downtown streets and enjoy art galleries, restaurants, pubs, hand-made ice cream, local BBQs, and even a brewery.
3. Cherokee Historical Museum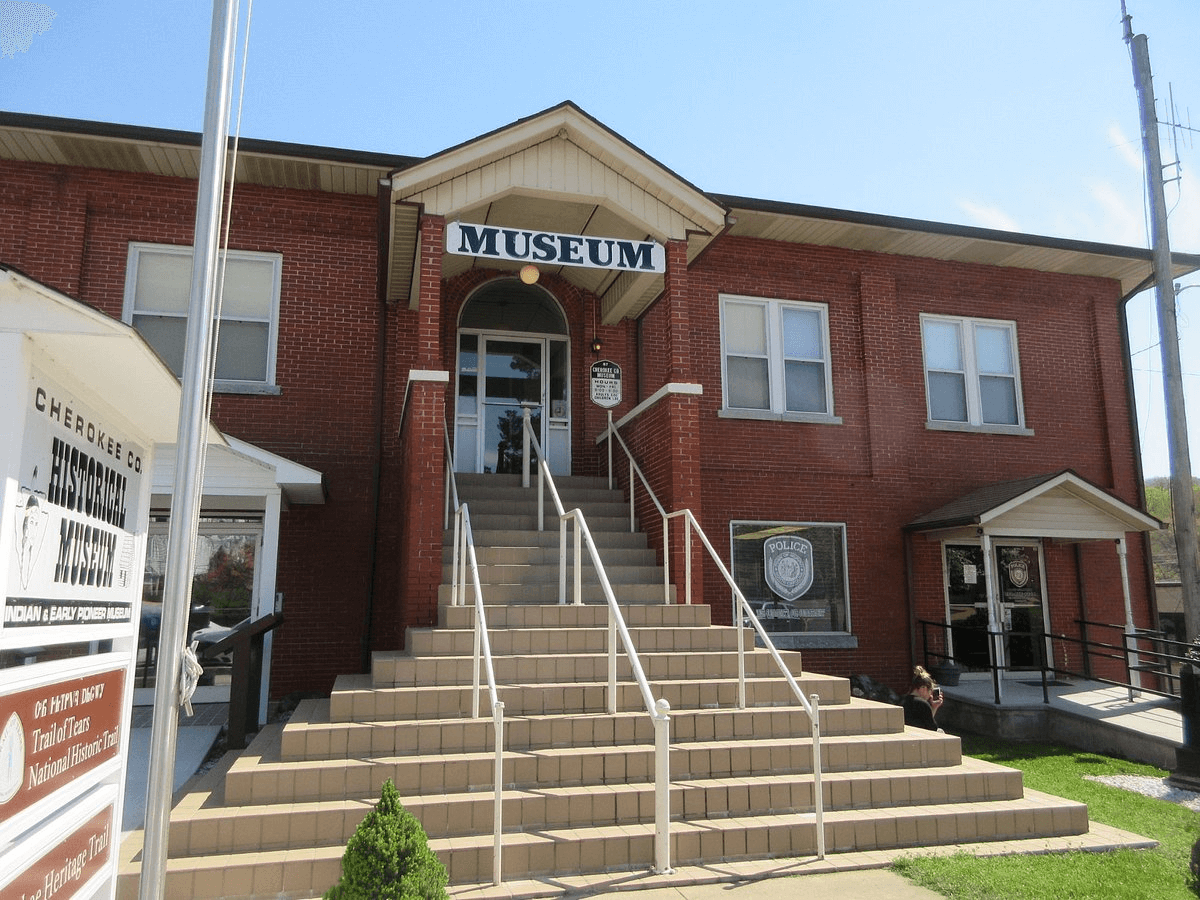 One of the best things to do in Murphy, NC, for history enthusiasts is to step back in time at the Cherokee Historical Museum.
Located in a historic Carnegie Library building in downtown Murphy, the museum showcases the rich history of Native American and pioneer settlers in the western part of the state.
The museum houses a wide range of exhibits, which includes a collection of over 2,000 Cherokee artifacts collected over fifty years by resident Arthur Palmer, 40 exhibit panels with drawings and photographs that illustrate the history and culture of local Cherokee, an antique farm implements and vintage household items used by early pioneer dwellers, and over 700 collectible dolls donated by resident Louise Kilgore.
Address: 87 Peachtree St, Murphy, NC 28906
4. Konehete Park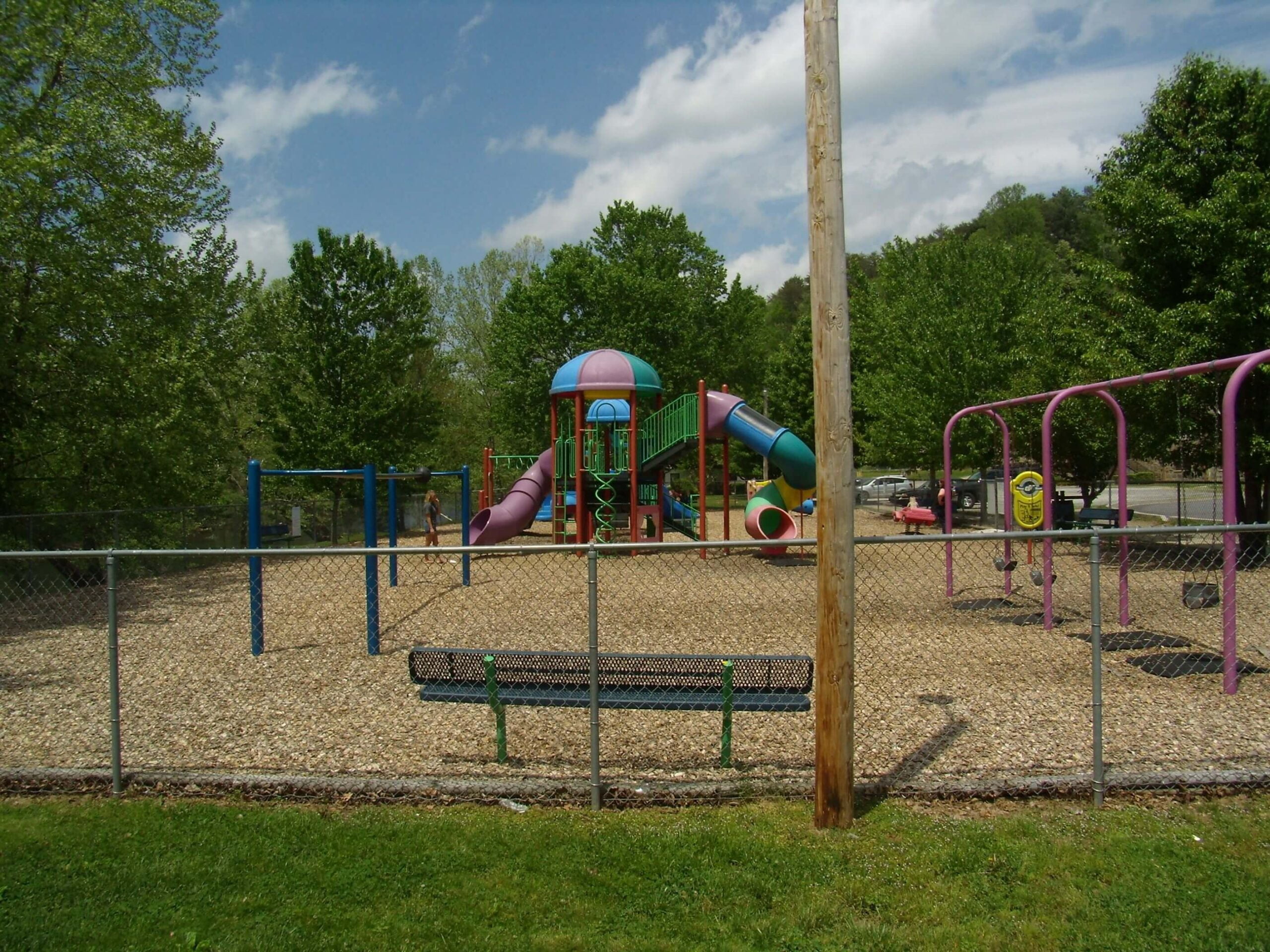 Spanning over 57 acres, Konehete Park is one of the top attraction destinations in Murphy, NC. This beautiful park is divided into two sections, each catering to a different activity, ensuring there's something for everyone to do.
The park features tennis courts, volleyball courts, baseball fields, a soccer field, a swimming pool, a picnic area and a playground equipped with swings, slides, and climbing structures. The park also has picnic pavilions, which are equipped with barbecue grills.
The Konehete Park is an ideal spot for family recreation. You can walk the trails or cool off during warm summer days at the clean pool.
Address: 699 Connahetta St, Murphy, NC 28906, United States
5. Harrah's Cherokee Valley River Casino & Hotel
Beyond the allure of the gaming tables and slot machines, Harrah's Cherokee Valley River Casino offers a multi-dimensional experience.
Spanning over 60,000 square feet, this state-of-the-art casino features over 1,000 slot machines and table games, including poker, blackjack, roulette, and baccarat. The casino's design ambient lighting, coupled with soft Cherokee music, set the tone for an immersive experience.
You can also indulge yourself at the multiple dining outlets at the casino, each catering to diverse palates. You can also enjoy live music events, stand-up comedy shows, and other performances, ensuring you make the most of your time at the casino.
Address: 699 Connahetta St, Murphy, NC 28906, United States
6. Hiwassee Dam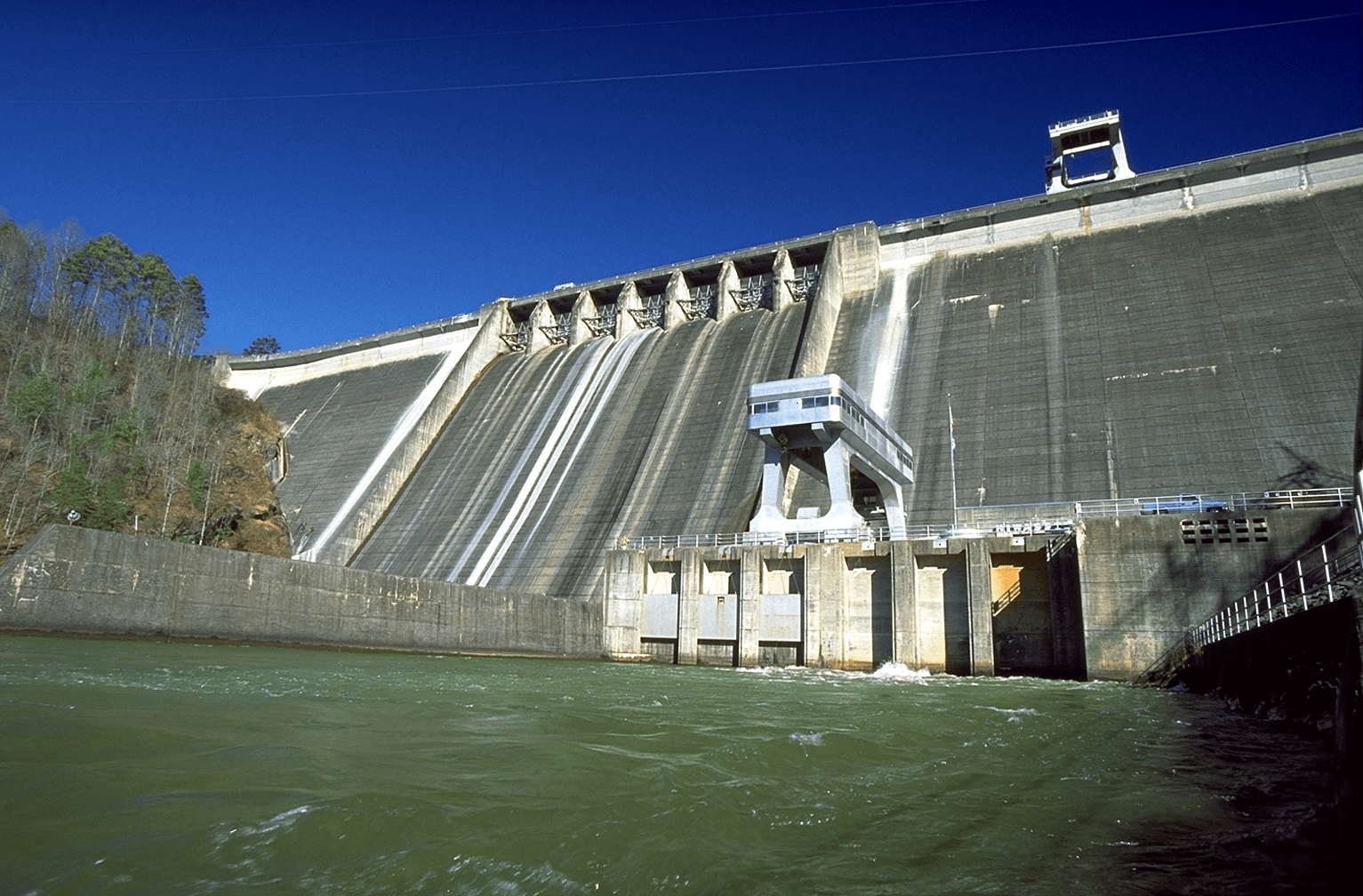 The Hiwassee Dam is one of the must-visit attraction sites in Murphy, North Carolina. Built in the 1930s, the dam creates the sprawling Hiwassee Lake, which stretches over 6,000 acres.
This concrete, gravity-overflow dam is 307 feet high and 1,376 feet long and has a generating capacity of 185,000 kilowatts. Interestingly, this dam is a marvel of engineering and a hotspot for recreational activities.
The reservoirs, crystal-clear water, are a haven for anglers. With abundant bass, trout, and crappie populations, it's common to see fishing boats dotting the lake, especially during the early morning hours.
Exploring this dam is fun, especially if you're visiting with kids, as they get to marvel at the engineering behind the turbines and how they operate to generate power. You can also rent a boat and spend the day fishing at the lake.
Address: Hiwassee Dam, Murphy, NC 28906
7. Cherokee Heritage Festival
The Cherokee Heritage Festival is a popular annual festival held on the third Saturday of every September on the grounds of the Cherokee Homestead Exhibit.
The festival, deeply rooted in the town's history and culture, seeks to educate visitors about the tribe's tradition, history, and contributions to North Carolina and the broader American narrative. The festival grounds are filled with tents and booths where one can explore Cherokee crafts, including intricate beadwork, pottery, and woven baskets.
Add this festival to your traveling itinerary as part of the fun things to do near Murphy. Participate in this colorful event and experience the town's culture.
Address: 21 Davis Loop, Hayesville, NC 28904, United States
8. Apalachia Lake Tour
Apalachia Lake, or Apalachia Reservoir, is in Cherokee County on West Murphy. The lake stretches about 9.8 miles to the base of Hiwassee Dam and contains about 31 miles of shoreline and 1,070 acres of water surface.
This family-friendly destination offers fun outdoor activities like picnicking, camping, fishing, and more. The lake is an ideal place to have fun and admire nature.
You can also embark on a tour, admire the beautiful lake, enjoy fishing or bask in the serenity of the surrounding mountains.
Address: 359 Adventure Ranch Rd, Murphy, NC 28906, United States
9. Fields of the Wood
Spanning 220 acres, Fields of the Wood is a biblically-based theme park with attractive streams, beautiful valleys, wooded areas, and mountains. The park is located beside the foothills of the Great Smoky Mountains.
The bible park is an abode to the most extensive exhibit of the Ten Commandments in 4′ x 5′ concrete letters and numbers. As you enter the park, you'll notice the All Nation's Cross, the Prayer Mountain Chapel and the Baptismal Pool.
As part of the unique things to do in Murphy, spend your day exploring the nature trail, duck pond, gift shop, and the Burger Mountain Cafe present at the park.
Address:10000 NC-294, Murphy, NC 28906, United States
Exploring other attraction destinations near Murphy? Why not check out some of the fun things to do in Cherokee, North Carolina and fun things to do in Winston-Salem, North Carolina?
10. Two Crows Farm
One of the fun family things to do in Murphy, NC, is to explore the Two Crows Farm. Located in the southwestern corner of North Carolina, the farm has 43 alpacas, farm dogs, cats, and Ilama.
The Two Crow Farm celebrates the rural lifestyle and activities by raising alpacas for their luxurious wool. The farm welcomes visitors to learn about raising livestock, processing yarn, growing food, and enjoying the sense of community.
Take a guided tour along with your kids, play with attractive animals and learn various activities that are carried out on the farm.
Address: 1495 Boiling Springs Rd, Murphy, NC 28906, United States
11. Henn Theatre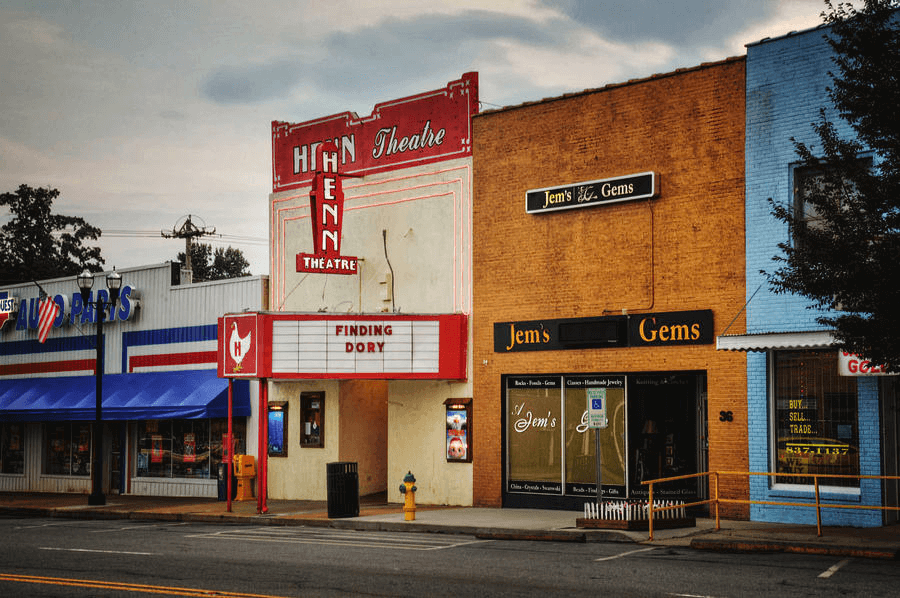 Are you looking for cheap things to do in Murphy tonight? Then, catch your favorite movie at Henn Theatre. Established in 1934, this family-owned theatre has been a source of strength for the locals and has waxed even stronger in strength presently.
The Henn Theatre is one of the two theatres to survive the Great Depression. Although the theatre retains its quaint look, it has recently upgraded with all-new surround sound systems to give visitors an exciting experience.
To see your favorite movie, check the event schedule. Spend a nice and fun moment with friends and family, and add this theatre to your bucket list.
Address: 38 Tennessee St, Murphy, NC 28906, United States
12. Nottely River Valley Vineyard
Your visit to Murphy would be incomplete without indulging in wine tasting at Nottely River Valley Vineyard. Established in 2008, this family-owned and operated vineyard and winery offers some of the best wines in Murphy.
Occupying 10 acres of a 93-acre farm that has been in the family since 1830, the vineyard and winery consist of high-density plantings of Cabernet Franc, Cabernet Sauvignon, Chardonnay, Primitivo, Pinot Gris, Riesling, and the French Hybrids – Chambourcin, Chardonel, & Seyval Blanc.
On your visit, you should check out their tasting rooms, which are usually open on Fridays and Saturdays from 12 p.m. to 6 p.m. You'll also learn how the vineyard functions and the wine-making process.
Address: 1150 Old Culberson Rd, Murphy, NC 28906, United States
13. WagonMaster Ranch Resort
WagonMaster Ranch Resort combines an amusement park, lodging facility, and boat tour agency. The resort is a beehive of fun outdoor recreation.
The Ranch Resort offers various choices, including a miniature golf course, kid-sized dune buggies, a target paintball and gun range, and much more. Apart from the cozy cabins, the resort has an RV site for those who might not need to lodge in cabins.
This resort is ideal for a romantic vacation in Murphy, NC. You must make reservations before visiting to make the most of this resort.
Address: 359 Adventure Ranch Rd, Murphy, NC 28906, United States
14. Cherokee Lake Recreation Area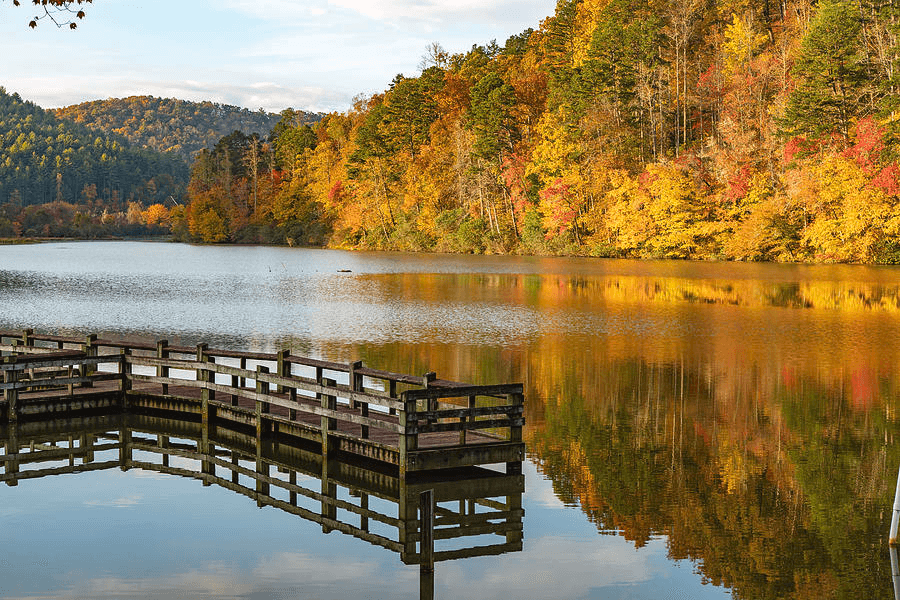 Exploring the Cherokee Lake Recreation Area is one of the best things to do in Murphy for nature enthusiasts. The recreation area is a perfect fishing destination, offering nearby hiking trails and many amenities.
The Cherokee Lake Recreation Area features a well-maintained fishing dock, picturesque hiking trails, picnic tables and larger pavilions suitable for family picnics.
Escape the crowded streets of Murphy and immerse yourself in the serenity of the recreation area, fish in the lake, hike the nearby trails and have fun with your family.
Address: Unnamed Road, Murphy, NC 28906, United States
15. Bear Creek Adventures Mini Golf and Gem Mine
One of the unique things to do in Murphy today with family is to visit the Bear Creek Adventures Mini Golf and Gem Mine. Located in a beautiful mountain setting, this 18-hole mini golf course and gem mine is full of family adventure.
They also offer gem mining, which includes gems and fossils. The miniature golf course also has an on-site shop where you can enjoy hand-dipped Mayfield ice cream, a snack or a cold drink.
Explore this attraction destination with your family, and enjoy the games in the beautiful mountain settings while sipping your favorite drink.
Address: 7289 US-64, Murphy, NC 28906, United States
16. Murphy Visitor Center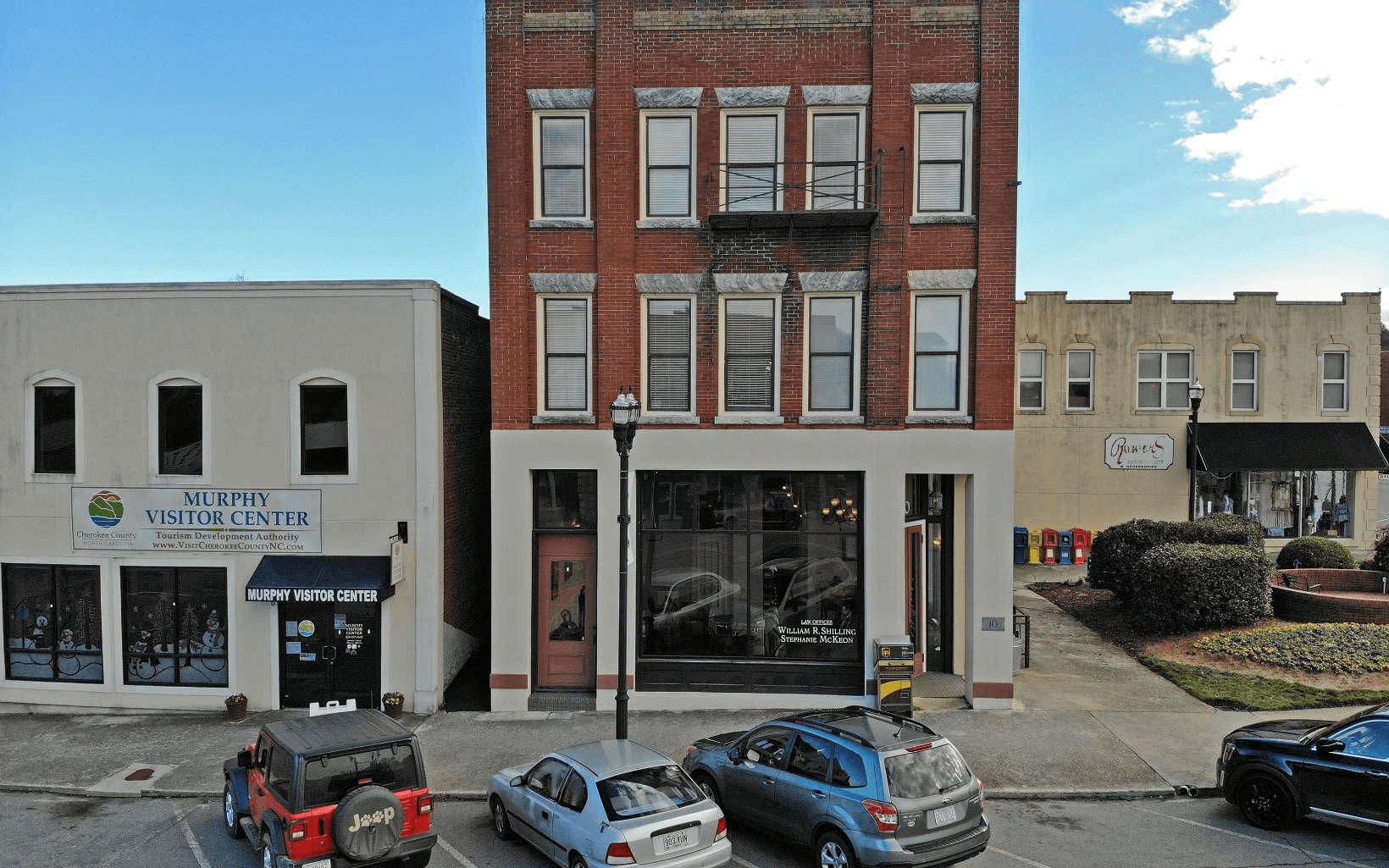 Visiting the Murphy Visitor Center is one of the best things to do in Murphy, North Carolina. The center serves as a gateway, providing information and details about the area for tourists.
Also known as the Cherokee County Visitor Center, this center has skilled staff who provide tourists with recent information on the area. Information that you could get at the center includes places to stay, things to do, restaurants, shopping and free maps.
If you ever need help exploring the town, find your way to the visitor center.
Address: 20 Tennessee St, Murphy, NC 28906, United States
17. Ye Olde Goat Farm
Established in 1999, the Ye Olde Goat Farm is one of the best places to visit in Murphy with children. The family-owned and operated farm offers close interactions with various charming goats.
Over the years, the farm has had many different kinds of goats, but currently, they are raising full-blood Boer and good Boer crosses. The farm also has friendly personnel happy to show you around and educate you about the animals.
As part of the things to do in Murphy, NC, explore this farm, connect with the animals by petting them, feeding newborn goats from bottles, or giving the adult animals carrots.
Address: 702 Hughes Rd, Murphy, NC 28906, United States
18. Mountain View Marina
Located on the pristine shores of Bear Paw Lake, the MountainView Marina is one of the best family vacation spots for aquatic adventures.
This family-owned resort provides many opportunities for swimming, boating, fishing, kayaks, stand-up paddleboards, or just relaxing and enjoying the views. The marina offers a variety of boat rentals, from pontoon boats for leisurely cruises to kayaks for those seeking a more intimate experience with the water.
For fishing enthusiasts, the marina provided guided fishing tours, fishing supplies and bait. The marina's store stocks up on fishing essentials, ensuring that anglers have everything they need for a successful day on the water.
Visitors can explore and relish fresh catches and other delicacies at the marina's cozy cafe while overlooking the lake's tranquil waters.
Address: 200 Dean Aldrich Dr, Murphy, NC 28906, United States
19. Mountain Folk Farmers Market
A trip to Murphy is incomplete without experiencing the vibrant and bustling Mountain Folk Farmers Market. Held every Saturday in downtown Murphy, this market brings together local farmers, artisans, and crafters, showcasing what the region offers.
The farmers market is a treat for the senses, from freshly harvested fruits, vegetables, and organic produce to artisanal cheeses, honey, and baked goods.
As you stroll through, the scent of fresh herbs, the colorful displays of flowers and the warmth of freshly baked bread will entice you. Beyond the fresh produce, the market is also a hub for handcrafted goods, from handwoven scarves and pottery to intricately designed jewelry.
Address: 9275 W US Highway 64, Murphy, NC 28906, United States
20. Great Smoky Mountains National Park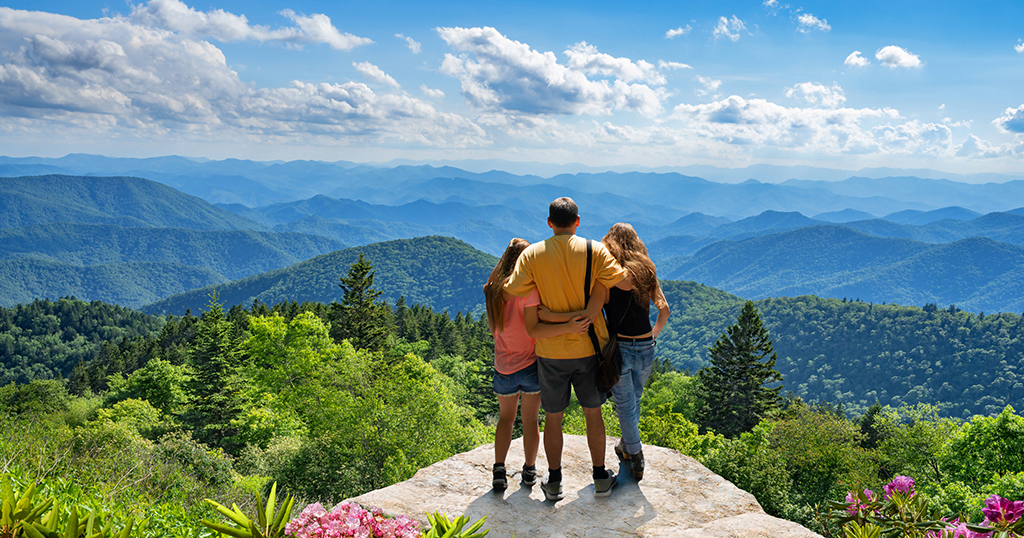 Located just a few hours' drive from Murphy, the Great Smoky Mountains National Park is one of the most popular attraction sites in the United States.
Established in 1926, the park is made of ridge upon ridge of seemingly endless forest on the border between North Carolina and Tennessee. The mountain range is famous for its plant and animal life diversity.
With about 80 historic buildings, spectacular displays of wildflowers, and abundant wildlife, the Great Smoky Mountains National Park offers many fun activities for visitors. The park also features waterfalls, which draw over 200,000 visitors per year.
On your visit, you can engage in hiking, biking, camping, picnicking, and trekking to majestic waterfalls.
Address: Cherokee, NC 28719, United States
21. Marketplace Antiques
Marketplace Antiques is the ideal place to go antique shopping in Murphy, North Carolina. This indoor facility features several shops selling various antiques, artwork, and collectibles.
The establishment is filled with historic relics that will catch your attention. The marketplace offers several antiques, glassware, artwork and wooden accessories beautified with wood-burned items, vinyl, hand-painted items, vessels, and many more.
Spend your time shopping, browsing through the collection and learning the history behind each piece, curated carefully by the owners.
Address: 41 Peachtree St, Murphy, NC 28906, United States
22. Fires Creek Recreation Area
One of the fun things to do near Murphy, NC, for outdoor enthusiasts is to seek challenges at the Fires Creek Recreation Area.
Located in the Nantahala National Forest, the Fires Creek Recreation Area offers an exhilarating hiking experience. Spanning about 25 miles, the Rim Trail encircles the Fires Creek Wildlife Management Area, offering varied terrains and breathtaking vistas.
The trail weaves through dense hardwood forests, meadows adorned with wildflowers, and occasionally, challenging ascents that reward with panoramic views of the surrounding valleys and peaks. Apart from the trail, this recreation area is excellent for trout fishing, picnicking, hiking, horseback riding, and camping.
So, if you're looking for the ideal place to explore fun outdoor activities, head to the Fires Creek Recreation Area.
Address: 1899, 1767 Fires Creek Wildlife Rd, Hayesville, NC 28904, United States
Plan Your Trip to Murphy, NC
Murphy, North Carolina, with its rich tapestry of experiences, is a destination that beckons travelers to delve deep, explore, and embrace its many facets. From its natural beauty, historic sites, and culinary delights to cultural experiences, Murphy offers a holistic travel experience.
Whether you're seeking adventure, relaxation, or cultural enrichment, this charming town promises memories that last a lifetime. We hope this guide is a comprehensive starting point for exploring this vibrant North Carolina town.
Have a fun trip!