15 Best Beaches in Sarasota, Florida
With over 35 miles of beaches, Sarasota, Florida, is renowned for its breathtaking coastline and is one of the top destinations for residents and visitors.
Whether you seek tranquility, adventure, or a blend of both, visiting the beaches in Sarasota offers them all. From world-famous Siesta Beach to secluded offerings like Caspersen Beach, there's a relaxing place in the sun for everyone.
In this article, we present the 15 best beaches in Sarasota, each with its unique charm and allure. Walk with us as we dive in and explore these coastal gems that promise to make your beach getaway an unforgettable experience.
---
15 Best Beaches in Sarasota, Florida 2023
---
1. Siesta Key Beach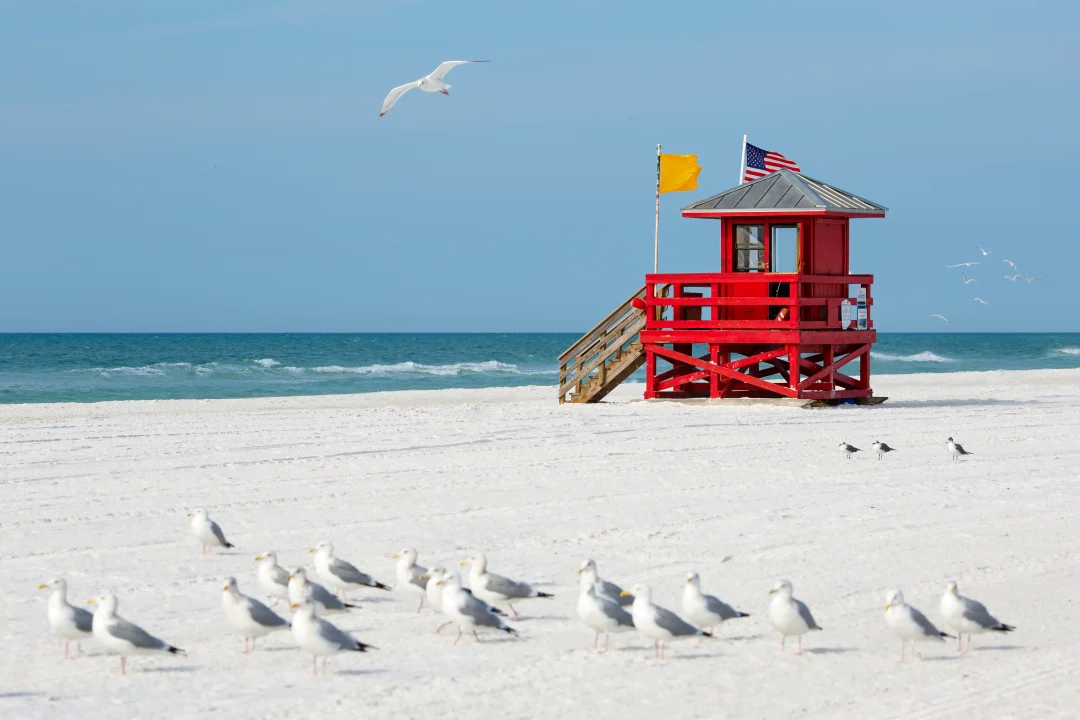 Rated as one of the best beaches in the United States, Siesta Key Beach is famous for its fine, white quartz sand that remains cool even on the hottest days.
With its easy access, Siesta Key Beach has become a must-visit destination for visitors and locals. The beach offers eight miles of shoreline and crystal-clear waters that entice visitors from near and far. It also has a spacious free parking lot that can take over 800 vehicles.
Relax under the shade of palm trees, take a dip in the refreshing Gulf of Mexico, or indulge in a game of beach volleyball—the possibilities are endless.
Address: 948 Beach Rd, Sarasota, FL 34242
2. Lido Beach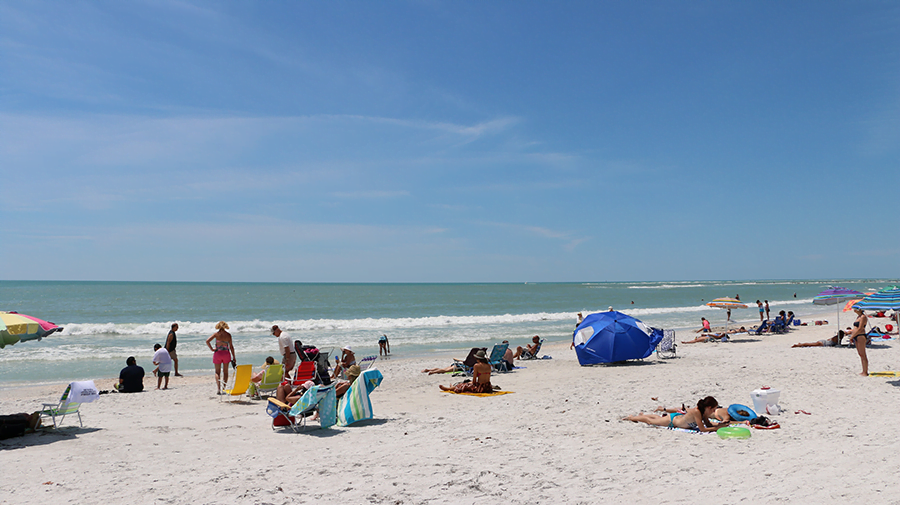 Lido Beach is one of the most popular family-friendly beaches in Sarasota, Florida. Located on Lido Key, the beach offers a perfect blend of natural beauty and urban conveniences.
Located about 15 minutes west of the city centre of Sarasota, Lido Beach sits on a historic site. The Lido Beach Park was home to a famous casino between 1940 and 1969.
Today the beach has become a popular tourist destination with its soft sand and sparkling waters. Visiting Lido Beach has also become one of the fun and best things to do in Sarasota, Florida.
Enjoy sunbathing, swimming, and strolling along the pristine shoreline, or explore the vibrant St. Armands Circle nearby for upscale shopping and dining.
Address: 400 Benjamin Franklin Dr, Sarasota, FL 34236
3. Longboat Key Beach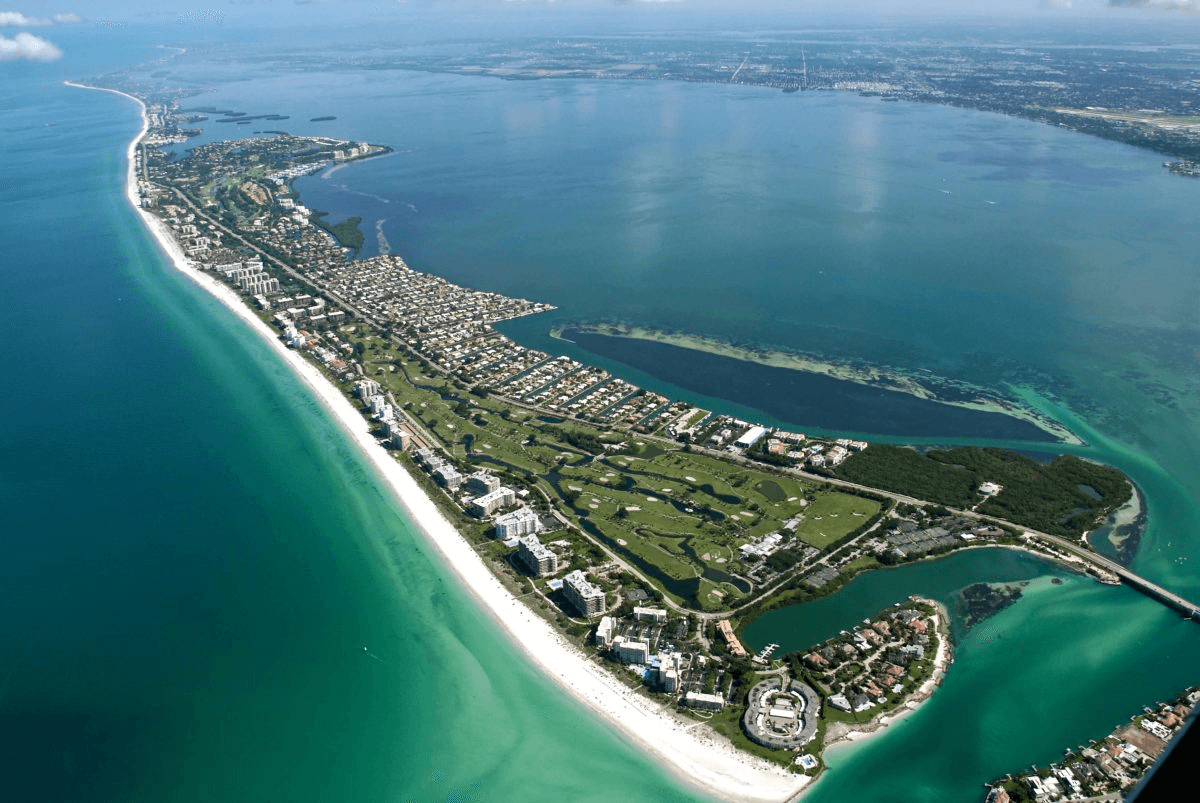 Longboat Key Beach is one of the best beaches in Sarasota, Florida. The beach boasts a serene atmosphere and a long stretch of unspoiled sand.
Sandwiched between the Gulf of Mexico and Sarasota Bay, this beach provides a peaceful escape with fewer crowds, making it an ideal spot for solitude and relaxation. Enjoy the tranquility as you soak up the sun, take leisurely walks along the shore, or simply admire the stunning vistas of the Gulf of Mexico.
Since there are no concessions and amenities available at these beaches, it is advisable to pack your own food, beach chairs, drinks and other essentials before visiting these beaches.
Address: 4711 Gulf of Mexico Dr, Longboat Key, FL 34228
4. Crescent Beach
Looking for that perfect beach for a family getaway? Then head to Crescent Beach. Located on Siesta Key, Crescent Beach is a hidden gem loved by locals and visitors.
This beach offers a more secluded and intimate atmosphere compared to its neighboring Siesta Key Beach. Crescent Beach is also one of the most popular beaches around Sarasota for swimming.
The pristine sand, azure waters, and breathtaking sunsets make it a beloved spot for romantic walks, shell collecting, and quiet reflection.
Address: 6364 Midnight Pass Rd, Sarasota, FL 34242
5. Turtle Beach
Located in the southernmost part of Sarasota County, Turtle Beach is a haven for nature enthusiasts and wildlife lovers. This public beach is famous for the sea turtle nesting on its 2,600-foot-long shoreline.
Tourists visiting the beach from May 1 to October 31 would likely see baby turtles embarking on their first journey from the sand to the crystal-clear waters.
With other family-friendly outdoor activities, Turtle Beach is a great beach to bring kids to. Explore the diverse marine life while snorkeling, embark on a kayak adventure through the mangroves, or simply unwind under the shade of Australian pines.
Address: 8918 Midnight Pass Rd, Sarasota, FL 34242
6. Coquina Beach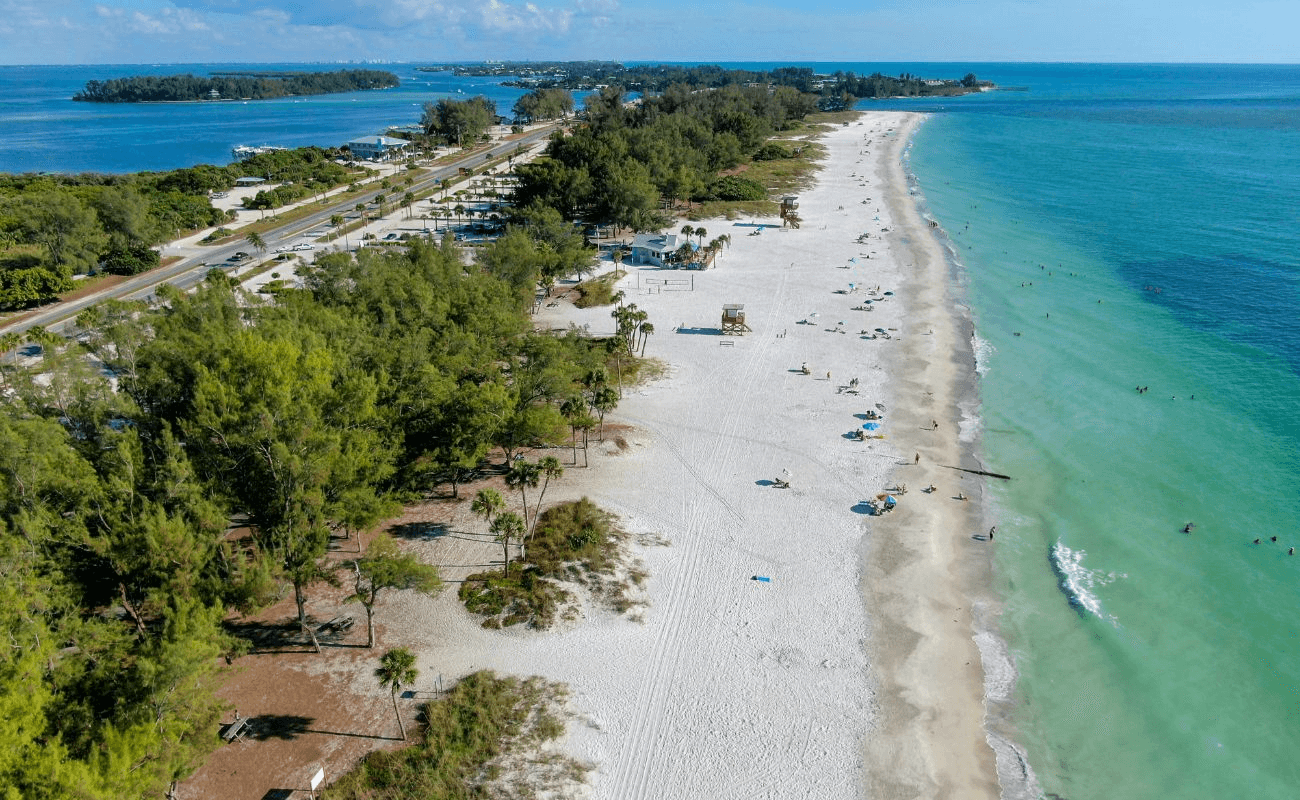 Located off Gulf Drive on Anna Maria Island, Coquina Beach is one of the best beaches close to Sarasota that offers a charming coastal experience.
The seven-mile-long beach is popular for its natural beauty, picnic areas, and recreational facilities. The beach offers soft sands and clear, calm waters perfect for swimming or throwing a frisbee around. Take a leisurely stroll along the shoreline, savor a beachfront picnic, or rent a bike and explore the scenic trails.
Address: 2650 Gulf Dr. S, Bradenton Beach, FL 34217
7. Manatee Beach
Located in Holmes Beach, Flordia, Manatee Beach is one of the family-friendly beaches near Sarasota, Florida. The beach offers a unique environment and an array of amenities for outdoor activities for families, kids, and adults.
Enjoy the playgrounds, volleyball courts, and picnic areas, or rent beach chairs and umbrellas for a day of relaxation. The calm waters and gentle waves make it a great spot for swimming and building sandcastles with the kids.
Interestingly, there are plenty of popular restaurants right on the sand where you can enjoy your favorite cocktail while watching the sky get painted with different shades of orange.
Address: 4000 Gulf Dr, Holmes Beach, FL 34217
8. Venice Beach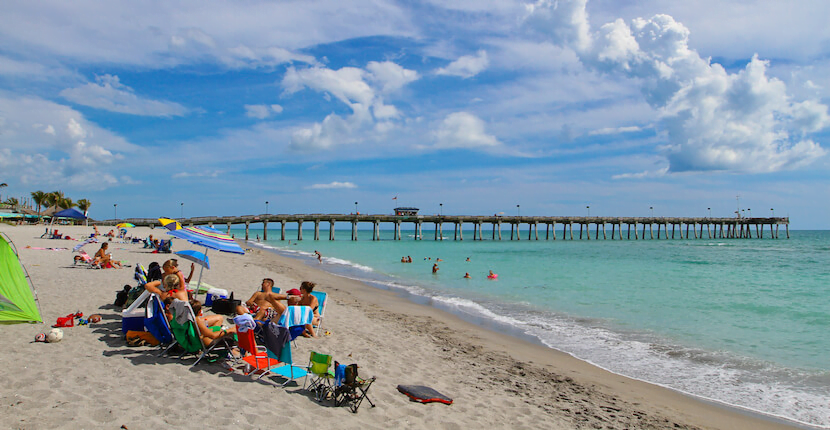 Looking for the best beaches near Sarasota, FL? Then head south to Venice and discover the captivating Venice Beach. With its easy beach access and beach wheelchairs, locals and visitors troop in here to enjoy the blue waters.
Also known as the "Shark Tooth Capital of the World," this beach is a treasure trove for fossil enthusiasts. Enjoy swimming, fishing, and sunbathing, and don't forget to explore the adjacent Venice Fishing Pier and the lively Venice Beach Boardwalk.
Address: 101 The Esplanade N, Venice, FL 34285
9. Caspersen Beach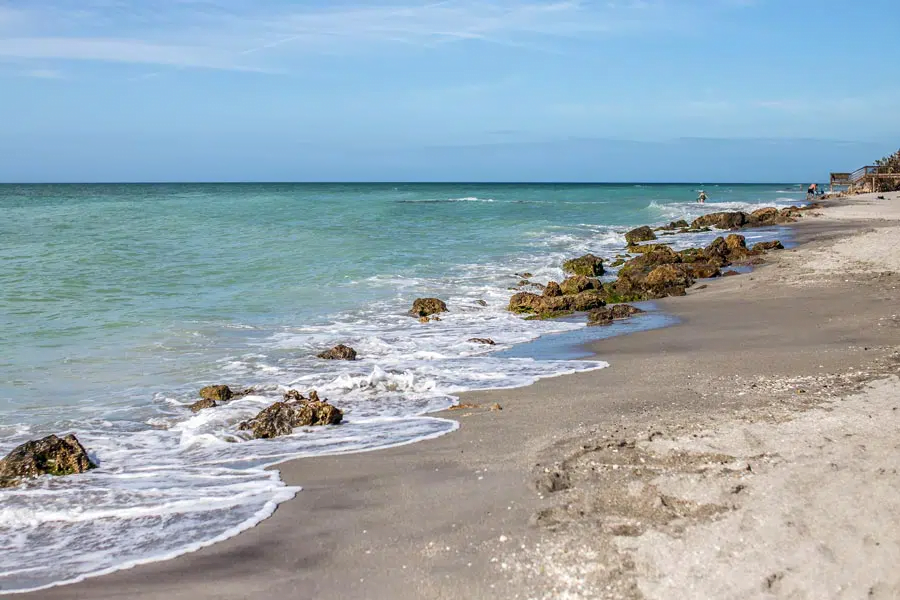 Located adjacent to Venice Beach, Caspersen Beach is a pristine stretch of shoreline that offers a more secluded and natural experience. The beach, which stretches for 1.5 miles along the Gulf of Mexico, is famous for its abundant seashells and shark teeth that wash ashore.
Take a leisurely stroll along the rugged coast, and you might discover a fossilized treasure or two. Additionally, there is an ADA kiddie playground trail, canoe launch, outdoor showers and a boardwalk.
Address: 4100 Harbor Dr, Venice, FL 34285
10. Nokomis Beach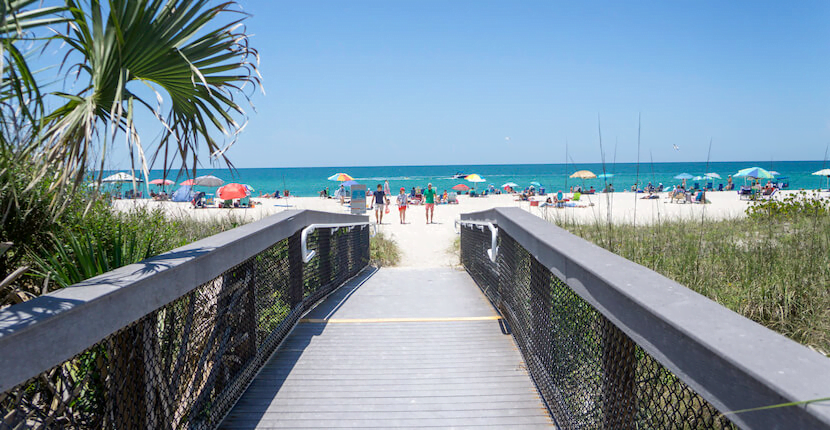 Nokomis Beach is the oldest public beach in Sarasota County and one of the best beaches in Sarasota. The beach is also a fantastic destination for surfers and fishermen. It also offers a tranquil retreat away from the bustling crowds.
With its wide sandy shoreline, clear waters, and ample parking, this beach is perfect for sunbathing, swimming, and picnicking. Don't miss the breathtaking views of Casey Key and the stunning sunsets that grace the horizon.
Address: 901 Casey Key Rd, Nokomis, FL 34275
11. Blind Pass Beach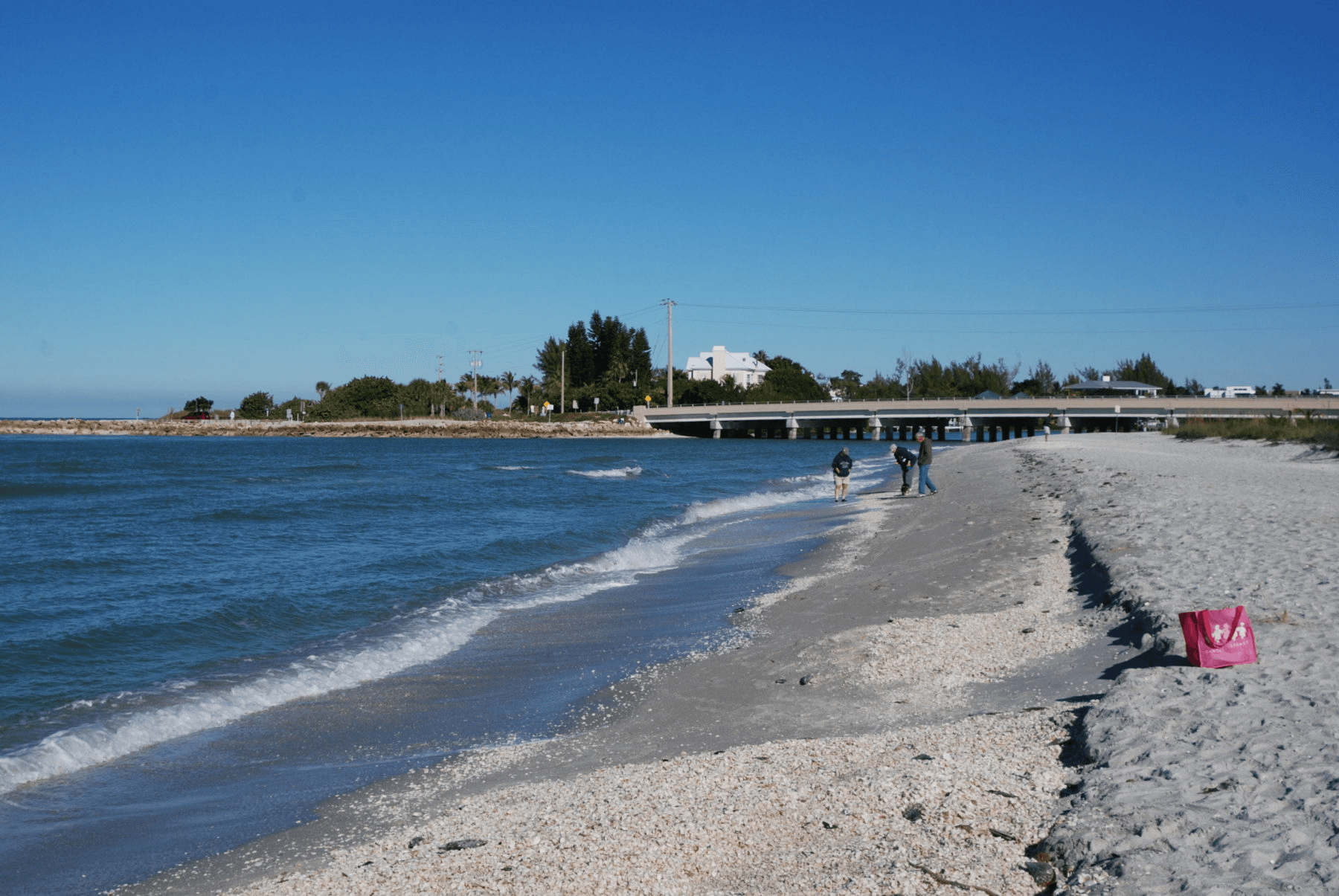 Nested between Englewood Beach and Manasota Beach, Blind Pass Beach is a hidden gem for locals and tourists alike.
This secluded beach offers a peaceful and natural setting, perfect for shell collecting, birdwatching, and sunbathing. The adjacent nature trail provides an opportunity to explore the mangrove forest and spot local wildlife.
Address: 6725 Manasota Key Rd, Englewood, FL 34223
12. Englewood Beach
Englewood Beach, Florida, is a charming coastal destination known for its relaxed atmosphere and stunning sunsets.
This beach offers a range of activities, including volleyball, fishing, and kayaking. Explore the nearby Stump Pass Beach State Park for nature trails, birdwatching, and a chance to see dolphins frolicking in the waves.
Address: 2100 N Beach Rd, Englewood, FL 34223
13. Manasota Beach
Manasota Beach is a pristine and uncrowded beach and feels like a hidden tropical island. The beach is famous for its rich marine life and is a popular spot for snorkeling and scuba diving.
Manasota Beach is also known for its fossilized shark teeth, making it an exciting destination for collectors and beachcombers. You can spend your day swimming, snorkeling, biking, and even enjoying a fresh picnic with a slightly quieter ambiance.
Address: 8570 Manasota Key Rd, Englewood, FL 34223
14. Brohard Beach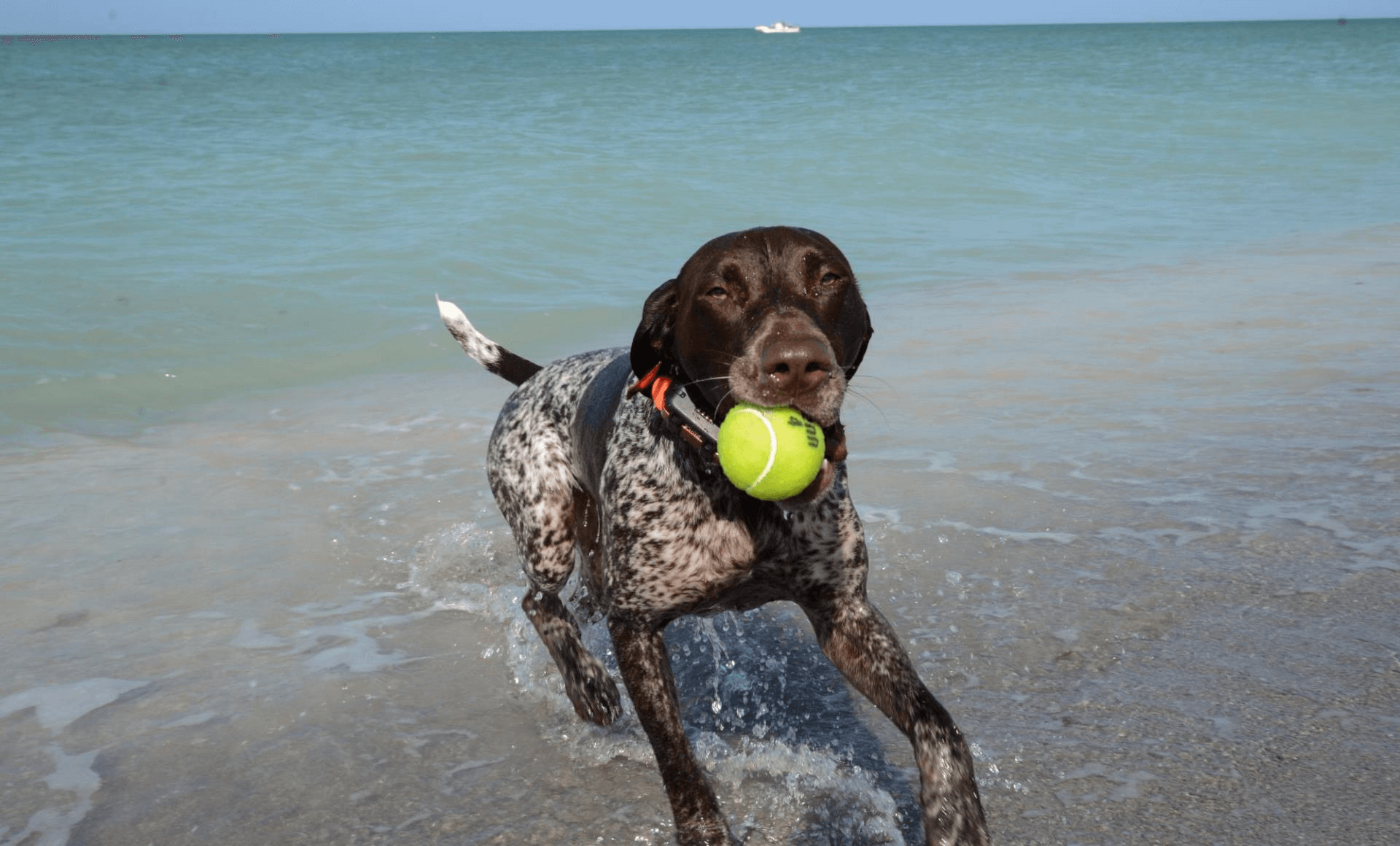 Located in Venice, Brohard Beach is one of the dog-friendly beaches in Sarasota, Florida. The beach is also famous for its blue waters and sand that's darker than most top-rated Sarasota beaches.
On your visit, you can come along with your dog to also enjoy the waves of the ocean at Brohard Paw Park. The beach has a designated dog shower and fountain and has become an oasis of fun for pups.
Additionally, you can explore Brohard Park on the south end of the beach to the Venice Fishing Pier. This famous 700-foot pier offers anglers free admission and does not require a fishing license.
Address: 1600 Harbor Dr S Venice, FL 34285
15. South Lido Park Beach
Located on the Southern edge of Lido Key, South Lido Park Beach offers 100 acres of an exceptional beach escapade. The beach has a relaxed ambiance and a white sand coastline and is sure to satisfy your beach cravings.
Featuring warm, crystal clear waters, South Lido Park Beach has been ranked among the best for swimming in all of Sarasota.
Furthermore, the park is a fantastic place for families because of its amenities, including a playground for kids, shaded picnic spots, barbecue grills, nature trails and an observation deck.
Address: 2201 Ben Franklin Dr, Lido Key Sarasota, FL 34236
Conclusion
Sarasota, Florida, boasts an abundance of stunning beaches, each offering a unique experience for locals and visitors alike.
Whether you prefer the soft white sands of Siesta Key Beach, the tranquil seclusion of Crescent Beach, or the family-friendly amenities of Manatee Beach, there is a beach in Sarasota to suit every taste.
So pack your sunscreen, grab your beach towel, and embark on an unforgettable coastal adventure to explore the 15 best beaches that Sarasota has to offer.